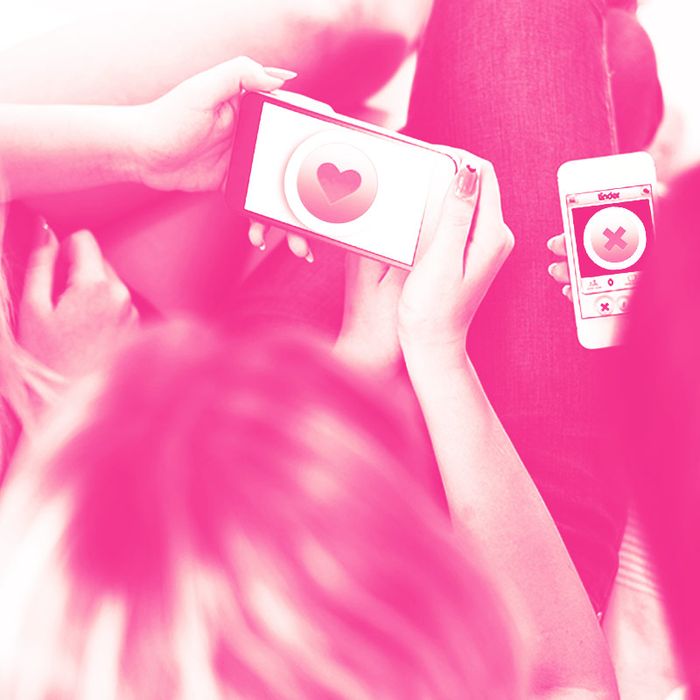 In July, most of my single female friends weren't playing around with online dating at all. They were busy with work and friends and not looking to settle down immediately, so why put the time and effort into meticulously constructing a profile, screening dozens of messages, and going on dates with guys who look nothing like their pictures? By August, all they could talk about was Tinder. They were each meeting a couple of men a week. By September, two were exclusively dating guys they'd met via the app. My friend Jenny refers to her boyfriend as her "Tinderoni."
The app is simple: You're served a succession of photos of people who meet your age, gender, and location criteria. You swipe right if you want to meet someone, and swipe left if you don't. If you both swipe right, you can message each other. It's fast and casual — a far cry from many dating sites' detailed filters for religion or hobbies. Tinder just pulls photos and basic data from Facebook, and in almost no time at all, users get to do exactly what we all do in social settings anyway: judge people based on appearance alone.
This is exactly the sort of scenario that we've been told women don't want. "I think that women more often than not will say that they're looking for something casual, and there's nothing wrong with any of that. I think deep down, though, most women don't actually believe that," says Amy Webb, author of Data: A Love Story, summarizing the conventional wisdom. "Most women do want to be in a long-term relationship." But 45 percent of Tinder users are women — and they seem to be just as comfortable with the app's low-commitment objectification as its male users.
Before Tinder, hetero dating apps were something of a non-starter. Years after the hookup app Grindr had become fully ensconced in gay life, the online dating industry had yet to counter with a version that would appeal to women. Tinder has quickly surpassed previous efforts — like Blendr or OkCupid Locals — and is now the fastest-growing free dating app in the United States, facilitating more than 2 million matches per day. Of roughly 200 million ratings per day, both men and women swipe left about 70 percent the time, and swipe right about 30 percent. Women are using it, and in roughly the same way as men.
Pulling in data from Facebook profiles was once thought of as the third rail of dating sites, betraying the lingering shame users felt about connecting their "real life" with their online courtships. But women like the fact that with Facebook data comes social accountability. Even though a profile picture might still be five years out of date, Facebook is ruthless about cracking down on fake accounts, and Tinder shows you if you have mutual friends, who can offer further vetting.
Then there was the old trope that, unlike superficial men, women need detailed information on a guy before they decide they're interested. This, too, is disproved by Tinder. As a bonus, its non-profile profile circumvents the panic that comes with signing up for most dating sites and carefully answering dozens of questions designed to convey who you are and what you're looking for in a life partner. Webb, who recently gave a TED Talk about her strategic approach to online dating, has gotten 1,300 e-mails in the last week — 80 percent of which, she estimates, are from "people agonizing over what to put in their profile." When the profile goes away, so does much of the stress. "I wasn't really open to the idea of strangers (or even worse, friends) coming across an online profile with me describing in depth," says a 26-year-old woman who lives in Brooklyn. On Tinder, though, "I'm not embarrassed to know that they might have seen five pictures of me and a Simpsons quote, as opposed to my deepest, darkest desires."
Crucially, Tinder also solves the inbox onslaught problem women face on conventional dating sites, where some men send messages en masse, overwhelming female users with the same useless "Hi, what's up? ;)" On Tinder, users only get texts from people they've indicated an interest in. And Tinder doesn't allow people to message each other with photos. This is a perk that gay users have come to appreciate as well. "It's just way more mainstream" than Grindr, one friend told me. "The whole dick pic thing is not part of it."
Perhaps most important, Tinder is a far cry from the exercise in self-flagellation that online dating has come to signify for many women. "It didn't feel like offering yourself on a plate to a collection of the world's 'lonelies,'" says Natasha Bird, who lives in London. "It also allowed for the more casual type of connection without seeming totally sleazy." Tinder is fun. People sign up because they're drunk and a friend dares them. Or their circle of friends gets to chatting about it at a party, and everyone signs up together. Several people they told me they call it "playing Tinder," and a few had even invented drinking games: Take one tequila shot for each bathroom-mirror selfie you come across, and two for each person you know IRL. (Or find your own meme. My friend Kenesha has a large collection of screenshots of men posing with tigers.) If you haven't sunk hours into meticulously creating a profile that you hope conveys the "real you," then you aren't as hurt when you're rejected.
"Tinder was just this funny but also kind of exciting and socially acceptable thing I could do, and with low expectations," says Erin, who lives in Minneapolis and met her boyfriend when they both swiped right. Even online dating veterans crave the serendipity of meeting a partner "organically," without the comparison-shopping pressure to determine whether he or she is soul-mate material. It's hard to feel romantic when you're running through the list of red flags you noticed on someone's profile, or if you've spent the past week obsessively Googling them.
Still, with less information and more spontaneity come a certain amount of confusion. One of the most common complaints I heard about Tinder, especially from men, was "I don't know what it's for." If pay-to-play sites like Match.com are for serious relationships, and free sites like OkCupid are for dating, then what about Tinder? Right now, the answer could be "casual hookups" or "last-minute coffee dates you feel free to flake on." But that may change as use of the app expands. Tinder co-founder Justin Mateen says they've heard of more than 100 marriage proposals among Tinder-matched couples.
Webb thinks most unhappy single people are dissatisfied with dating, online and off, because they rarely stop to think about what they really want. Tinder's popularity offers evidence that even thoughtful singles have no clue as to what's going to make them happy. Both men and women sent me dozens of stories about how they signed up as a joke and planned to use the site for casual hookups, then ended up having meaningful relationships or, in one case, a two-week romantic getaway to South America. Maybe, when it comes to online dating, ignorance leads to bliss.