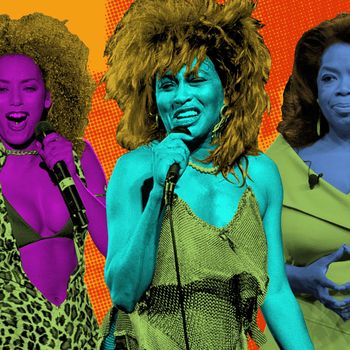 This week, Julianne Hough's Crazy Eyes blackface gaffe and the horrible spate of Trayvon Martin costumes have revived what is now an annual conversation about what is appropriate when it comes to impersonation. Despite the apparent need for reminders, most people seem to get that blackface is not okay. But there's another aspect to festive racial politics that's less often considered, and it's something I've had to deal with most Halloweens: No matter what costume I wear, white people are unable to see me as anything other than a black woman.
There's a familiar notion — most recently reinforced on an episode of Scandal, but also spoken by President Obama — that, as a minority, you have to try twice as hard to get the same results (or even half) that white people do. Usually it's applied to, say, the work ethics of Harvard students and future black neurosurgeons, but lately, I've started to think of my Halloween costumes this way. As soon as the candy hits the Duane Reade shelves (so, like, August), I've already started making inspiration boards, scouring vintage stores and Amazon, all in the attempt to make sure there can be no confusion as to what I'm dressed as. Because with the right attention to detail and mastery of a few stand-out characteristics, this is supposed to be a night when man can convincingly be woman, human can be animal, Chihuahua can become giraffe, and so on.
It's a night of transformation — that is, until it comes to the sticky world of race and the Halloween costume. Those laws of perception-bending might apply to cross-dressing or cross-species impersonations, but when it comes to crossing color lines, the flexibility disappears. When I, a black woman, choose to dress as something other than Scary Spice or Oprah, a whole lot of confusion usually ensues.
Take Halloween 2010, for example: Humility aside, I maintain I was the best Velma from Scooby Doo in history. And still, I spent the night in conversations like this:
"Nerd?"
"Velma from Scooby Doo."
"Oh?"
"I'm the Black Velma."
"TOTALLY SEE IT."
Maybe I was lucky, but as a kid, this awkwardness wasn't a problem. I'd be Ariel from The Little Mermaid or Dorothy from The Wizard of Oz, and nobody ever reminded me that Ariel was probably of both Irish and Oceanic descent, or that Dorothy was a white Midwesterner. Instinctively, during adolescence, I transitioned into mythical creature territory: Vampire. Witch. Vampire-Witch. But as I've aged, the pop-culture references I choose to embody on Halloween — typically an evening when topical punch lines and cultural obsessions come to life — have continued to challenge the list of costumes that are acceptable for black girls, or easy to understand. Sure, my roster has included iterations of Tina Turner from across the decades, but sometimes I just really want to be Winona Ryder's Veronica in Heathers without having to offer up, "I'm the black …. "
Halloween's hidden racial politics truly became clear to me in college when I went as Alice from Alice in Wonderland. It felt timely: I was living in London and the DVD had just been released. I assumed props would be all it took to clue in people to my new identity. I spent the evening in a blonde wig, sipping booze out of a teacup and eating homemade EAT ME cookies. But somewhere around the 50th exchange of "But you can't be Alice. You're black …. " I gave up and switched my answer to "I'm Lil' Kim in boarding school." Which somehow made more sense to the people around me than a conceptual Alice. I guess the cookies still worked in that context.
I have no problem with being Oprah if the mood were to strike — and once I even found someone willing to go as Gayle. But I suppose I've just always assumed that if there were any arena in which the post-racial American attitude of color-blindness could be easily adopted, something as innocuous as Halloween ought to be it. And for some it is: When white friends of mine were TLC from the "Creep" video, it was an instant hit. My friend Shannon was a breathtaking Flavor Flav even though she's a ginger who requires SPF 400 — and she didn't wear blackface to get the point across.
So this Halloween, to ease confusion, I'm ditching the human race in favor of the Vulcan one. That is, if I can find a pair of pointed ears that match my skin tone.