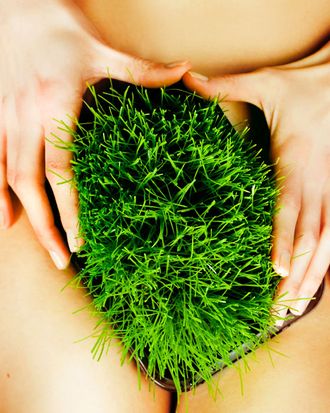 Photo: VikaValter/iStockphoto
We teased the London branding agency that tried to make having pubic hair into a big #feministissue last month, but it's possible we spoke too soon. Petra Collins, the artist who designed the menstruating-vulva American Apparel T-shirts, had her Instagram account deleted after she posted a photo of her unwaxed bikini line. A very artful photo of her unwaxed bikini line, we might add!
She wrote about the experience and its implications for Oyster Mag:
I did nothing that violated the terms of use. No nudity, violence, pornography, unlawful, hateful, or infringing imagery. What I did have was an image of MY body that didn't meet society's standard of "femininity". The image I posted was from the waist down wearing a bathing suit bottom in front of a sparkly backdrop. Unlike the 5,883,628 (this is how many images are tagged #bikini) bathing suit images on Instagram (see here and here) mine depicted my own unaltered state — an unshaven bikini line. Up until this moment I had obviously seen and felt the pressure to regulate my body but never thought I would literally experience it.
Collins posits that online censorship of women's bodies is probably reflected in their IRL treatment as well.