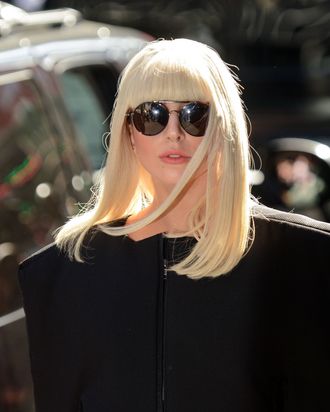 Photo: Ray Tamarra/Getty Images
Cowboy up, Lady, writes Instagram Company, your posts are distressing people. This blessed social-media app is designed to make your eggs and tomato compote look heaven-kissed in the morning. It's for  showing off hippie-fabulous sun salutations and harvest bounty. It's a platform where you can prove how pretty you are by showing how ugly you are.
It's not for documenting pathetic scrawls of sad poetry on old-fashioned paper, according to Instagram. It's not for your facile connection between "feeling low" and "living high." It's only for high living; you keep the low part to yourself. This photo-sharing soapbox is not for acting like such a downer on some Marriot Residence Inn stationery.
But independent-minded, limb-tangled Lady Gaga ignored the happy rules of social media. After Gaga posted some dramatic diary entries, using a totally rock-and-roll bookmark, Instagram sent her a concerned dispatch, seemingly on behalf of some little monster lambs who had flagged the sad posts with concern. Ignoring the caption "#DOPE track 013," Instagram contacted the singer:
Members of the Instagram community have raised concerns for your well-being after seeing posts you've shared. We're reaching out to provide you with some important safety information.
Gaga posted their e-mail: "what the actual hell. hahahaha." HAHA, I laugh at you crying at my pain. I cackle like a sorceress at your concern, mere picture platform. Hand-scrawled depressive epistles are the new #blessed.