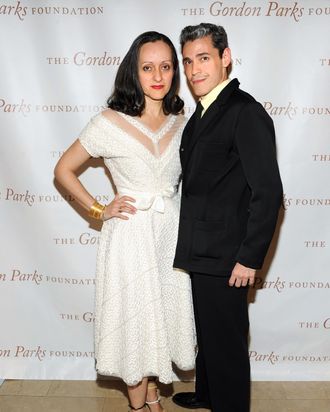 Isabel and Ruben Toledo.
Photo: Ben Gabbe/Getty Images
The plus-size market has had a notoriously difficult time getting the high-end fashion industry to acknowledge its existence. Most designer labels still don't go above a size 14, which is the average size of American women. (One survey showed that more women wear a size 16 than the combined number of those who wear sizes 2 and 4.) But Lane Bryant, the country's best-known plus-size retailer, hopefully has the financial muscle to change that. For its first-ever designer collaboration, the brand has tapped husband-and-wife team Ruben and Isabel Toledo to make a capsule collection of T-shirts and bags based on Ruben's sketches, WWD reports.
This partnership is a surprising one. The Toledos are best-known among the New York art crowd, and Isabel is not one to pursue press or attention. Aside from a one-year stint at Anne Klein in 2006, she has designed solely under her own name since starting her eponymous label in 1985. She has also chosen to avoid the mainstream fashion industry and doesn't even present her collections on the biannual schedule. Despite high-profile clients like Michelle Obama, she remains mostly under the radar. Her husband's sketches often reference fashion, and are frequently incorporated into her work (and vice versa).
But with a mass-market collaboration comes a splashy launch, and the Toledos will be required to participate. As part of their arrangement with Lane Bryant, the couple will reveal their full collection with a fashion show next year. Isabel tells WWD:
We're looking together at all product categories and nothing is being ruled out as a possibility for inclusion down the road. This is a big deal for us and we're treating it in that manner in every way we can…

[We] were intellectually on board from the first moment. Their unique customer base is an inspiring and diverse audience for which we look forward to crafting new and innovative fashions, accessories and even some other categories. We also wish to introduce our vision of color, design, look and style and, with the vast manufacturing capabilities at their disposal, we know whatever we design will be made well and fit and feel marvelous. This seems so natural to Ruben and me and we cannot wait to unveil what we're doing together.
Bravo to them for going where no other high-fashion brand has gone before. This will be a fun partnership to watch.