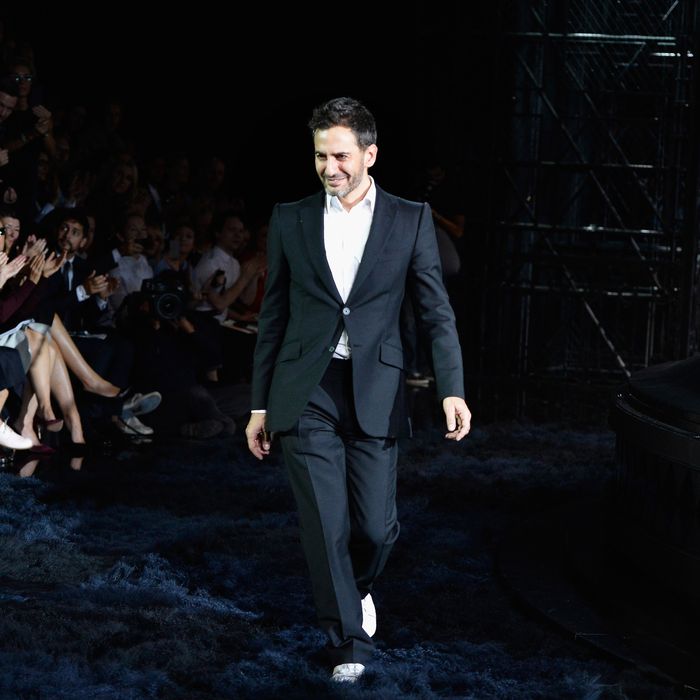 Marc Jacobs.
Photo: Pascal Le Segretain/Getty Images
Following the announcement of Marc Jacobs's departure from Louis Vuitton yesterday, the designer gave an in-depth interview to WWD about his future plans. For the record, he is still very much in LVMH's pocket, and has their full blessing. So much so that Bernard Arnault left the choice completely up to Jacobs, with no pressure at all! Or so he claims:
"Mr. Arnault left it to Robert and me," Jacobs said. "Two weeks ago when I arrived back in Paris, he said, 'The future of Marc Jacobs will require so much of your and Robert's attention that at some point you will have to decide when you will make it your last show.' But he left it to us to decide."
But there were so many rumors flying around Paris about him that he pulled the trigger yesterday, literally right before the show. In other words, this collection wasn't designed to be a finale, or a good-bye of sorts.
"I know people will perceive this in whatever way they want," Jacobs said. "They will read into all sorts of things. The choices that I made were based on something completely different. This was never my intention to be the last show. The three of us, with Michael's company, decided that [last-minute]. So again, whatever."
Whatever, indeed. It was no secret to Marc or the press that his ten-year contract would expire at the end of this year, so he must have had some inkling that this could be the one. But then again, carpe diem! Design every show like it's your last!
But onto the next: When Arnault, Jacobs, and his business partner Robert Duffy were asked about plans for Marc Jacobs International's IPO, they referenced Michael Kors's highly lucrative public listing as a kind of prototype:
Jacobs: "Has Michael Kors been successful?"
Duffy: "To be honest, we've talked about this for a few years, not knowing that Michael was going to do what he was going to do."
Arnault: "We have some familiarity with the stock market."
Jacobs: [to Arnault] "Even with a cold, you have a good sense of humor."
They declined again to give a timeline, but Jacobs doesn't do things quietly, so we'll surely hear about it soon.