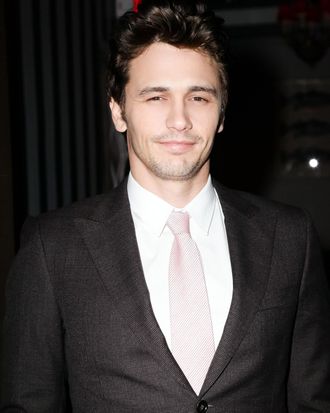 Photo: Matteo Prandoni/BFAnyc.com/BFA NYC
Instagram user and professional lollygagger James Franco knows that most problems can be solved with the right photograph. So when Franco was at a photo shoot at a Beverly Hills home about a week ago and the 15-year-old daughter of the home's owner had a little love trouble, Franco knew just what to do.
A source tells Us Weekly that the young woman "was really depressed because her boyfriend had just broken up with her." So, "James caught wind of it and gave her a pep talk." When Franco learned that the girl's ex was obsessed with him — "him" being famed laze-about Franco — he suggested that they take a photo together. The source reports: "He said, 'Post it on Facebook and tell him to eat his heart out!' Her ex is all of a sudden starting to think he made the wrong decision!"
And so, in a spirit of kindness, generosity, and goodwill, Franco wrapped his limbs around her torso. He clutched his hands around her arms, lowered his face into the shadow of her head, and narrowed his eyes to a long-honed level of creepy. He smirked and someone snapped the photo and now it exists so that the whole Internet may seize in jealousy. We made the wrong decision!