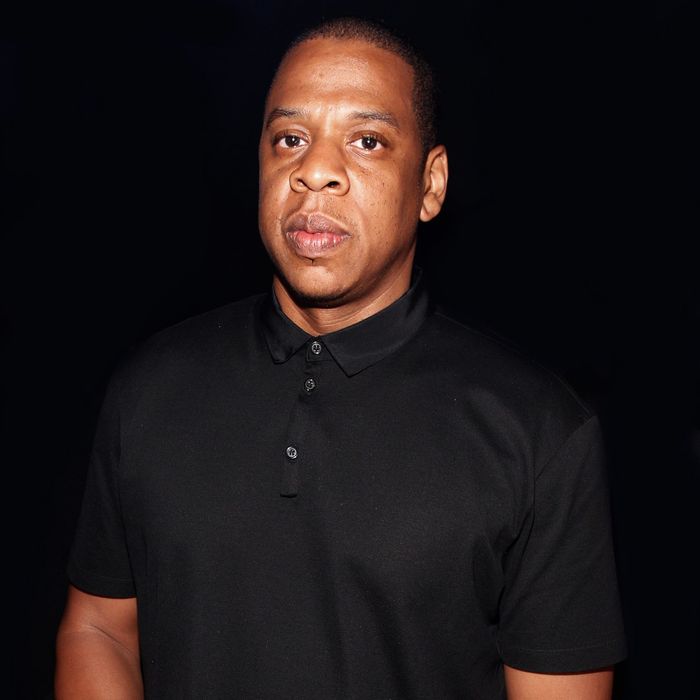 Jay-Z.
Photo: Brian Ach/Getty Images
After multiple people accused Barneys New York of racial profiling last week, Jay Z addressed his forthcoming holiday collaboration with the retailer in a statement on his website, published Saturday night. In particular, he responded to accusations that he wouldn't cancel the partnership because he wants the money it'll generate:
I am not making a dime from this collection; I do not stand to make millions, as falsely reported. I need to make that fact crystal clear. The Shawn Carter Foundation is the beneficiary and the foundation is receiving 25% of all sales from the collaboration, 10% of all sales generated in the store on November 20th and an additional donation from Barneys. This money is going to help individuals facing socio-economic hardships to help further their education at institutions of higher learning. My idea was born out of creativity and charity … not profit.
Why didn't he respond sooner?
I haven't made any comments because I am waiting on facts and the outcome of a meeting between community leaders and Barneys. Why am I being demonized, denounced and thrown on the cover of a newspaper for not speaking immediately? The negligent, erroneous reports and attacks on my character, intentions, and the spirit of this collaboration have forced me into a statement I didn't want to make without the full facts. Making a decision prematurely to pull out of this project, wouldn't hurt Barneys or Shawn Carter, but all the people that stand a chance at higher education. I have been working with my team ever since the situation was brought to my attention to get to the bottom of these incidents and at the same time find a solution that doesn't harm all those that stand to benefit from this collaboration.
And don't think he's not sympathetic to those who have been victimized by racial profiling:
I am against discrimination of any kind, but if I make snap judgements, no matter who it's towards, aren't I committing the same sin as someone who profiles? I am no stranger to being profiled and I truly empathize with anyone that has been put in that position. Hopefully this brings forth a dialogue to effect real change.
The "meeting between community leaders and Barneys" that he mentions is scheduled to take place on Tuesday, when Barneys CEO Mark Lee sits down with Reverend Al Sharpton and Kirsten John Foy, president of the Brooklyn chapter of the National Action Network (NAN), to discuss the incidents and how the retailer can make amends. But don't expect Sharpton to roll over easily; he made a speech at the NAN headquarters in Harlem on Saturday (via WWD):
"We're not going to live in a town where our money is considered suspect, and everybody else's is respected…. If they do not get satisfaction Tuesday, then I'm going down there."
He added that young blacks save their money for things they want to buy: "They take a lot of money and go to your store, and are treated like suspects." He said it's gone from "stop and frisk" to "shop and frisk."
Meanwhile, the online petition asking Jay Z to cancel his holiday partnership with Barneys now has 16,133 signatures.
Barneys will (and should!) do all they can to rectify this situation, but as Jay Z said, it's unclear how much they're to blame versus the NYPD. What's more, this problem obviously isn't isolated to just one retail chain. On Friday, Treme star Robert Brown reported that he was racially profiled at Macy's, where he was detained by plainclothes police officers and accused of using a fraudulent credit card in June. He's suing Macy's and the NYPD. This week will surely bring forward more customers who've experienced similar discrimination, and hopefully some steps toward a resolution. No store wants picketers to block their holiday windows.