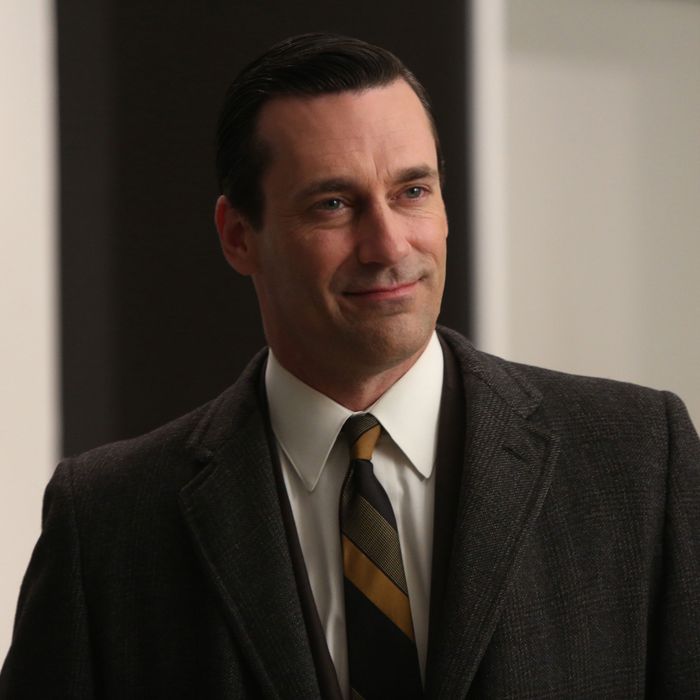 Photo: Jaimie Trueblood/AMC
In an interview with OK! magazine to promote her work with Look Good … Feel Better, a program that teaches women undergoing cancer treatments new makeup techniques,  Mad Men makeup artist Lana Horochowski also revealed what everyone wants to know. What is it like to touch Jon Hamm?
Well, apparently: stubbly. Horochowski told OK! magazine that, "For so long, [the Mad Men] were all so clean-shaven. We shoot such long hours, and for Jon, [Hamm] we shave sometimes two, three times a day." But has a massive case of beard burn ever hurt anyone?
Other interesting numbers: three, the number of false eyelashes that Jessica Paré wears as Megan Draper. Two, different lip colors that Christina Hendricks wears to play Joan Holloway ("She wears 'Baby Lips' by Laura Mercier and 'True Coral' by Tom Ford a lot.") And one, slightly unsteady hand for Elisabeth Moss. Horochowski explains, "We try to make [Peggy's] eyeliner wobbly — trying to make it messy without looking too clownish is the constant challenge." And we thought the constant challenge would be this.