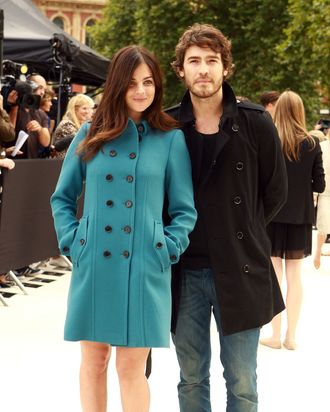 Julia and Robert.
Photo: Fred Duval/Getty Images
33-year-old Julia Restoin-Roitfeld, daughter of Carine, confirmed in an interview with the Metro today that she and Robert Konjic, the hunky father of her 1-year-old daughter Romy, are no longer together.
"We're still on good terms and Romy sees him all the time," she says. "It's nice when he's in town and can pick her up in the morning —  I feel less guilt. I prefer that she's with family than with a nanny but I'm a single mother," she shrugs, "and sometimes I need a hand."
The former couple dated for several years before Romy came along, and apparently kept their breakup secret for a few months. But Julia seems pretty over it, and is more excited to talk about her 6-month-old mommy website, Romy and the Bunnies, which aims to portray a sexier side of pregnancy and motherhood. She plans to start selling branded merchandise soon, including blankets, swaddles, perfume, and "sexy pregnancy and breastfeeding bras." Well, there's definitely a hole in the market there.