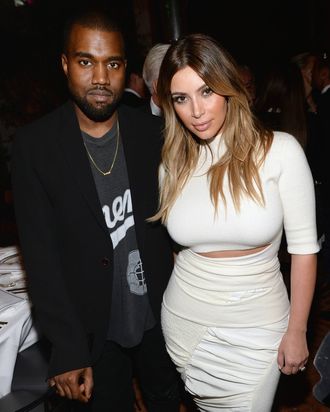 Photo: Michael Buckner/WireImage
After all the intimate romance that a big-stadium proposal provides, Kim Kardashian and Kanye West are getting a prenup.
TMZ reports that the couple "are NOT signing a prenup because they're worried the relationship might fall apart."
Speaking to insiders, TMZ says that this idea came about because "they're both business people and know given their vast wealth it's just the smart thing to do to have a prenup." They know that their business is this marriage and ensuring a proper upbringing for North, until she comes of age and can live off the profits of her impending fragrance line, North by North West.
Though Kanye and Kim will keep their assets separate, they will pool some money into a joint account to cover living expenses. Just enough for some milk, toilet paper, home repairs, and maybe an extra twenty set aside for a rainy day!