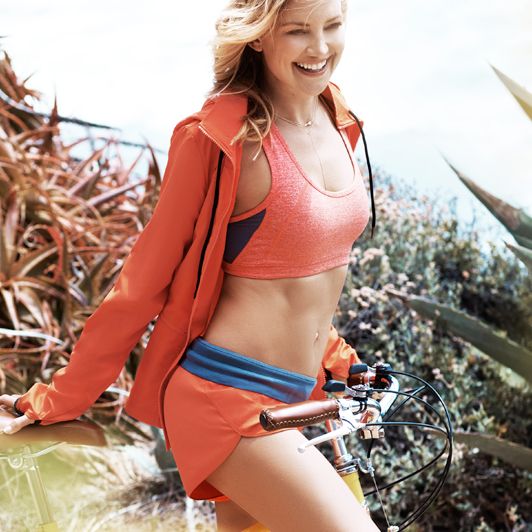 Photo: Courtesy of Fabletics
Elle interviewed Kate Hudson about her latest endeavor, and the Q&A starts off with an amazing answer that should be given an award for surprise endings.
This answer could be about micro-finance, or an experimental narrative about the place of women in a changing society. It could be about building houses for underserved communities, or writing a memoir-based theater piece, or devising a collaborative art project that addresses one nation's legacy of conflict. Then, in the fifth sentence, a big twist! And in the last sentence, the grand finale:
When I talk about getting my creative juices flowing in another field, I always wanted it to be something that had a consciousness. What is the message? And it was about reaching — hopefully — a large number of women who want to get involved in the community and helping them achieve their goals through the website. Then, I wanted to create a product as meaningful as the message. We wanted to make sure it was real athletic wear you can wear, whether you are an athlete or somebody who is really starting out that part of their life. I always wanted a legging you can wear to workout or throw some boots on and go out in. And, have it not cost $100 and have the same quality.
Hudson knows that life is about setting reasonable goals — legwear benchmarks that can be achieved. You did it, Kate! You achieved your goal of affordable leggings. And ostensibly in snakeskin!
Aside from this ponderous quotation about creation and juices, the interview consists mainly of her saying the standard celebrity stuff about fitness and also about literal juices. There is a certain amount of just-trust-me-I'm-a-fit-person going on here. The website for Fabletics, home of Kate's dream leggings, says that co-founder Hudson will be "using her intuition as an athlete and a fashion lover" to select her go-to pieces. But also in the main promo shot she looks like she has no idea how to ride this bicycle at all.