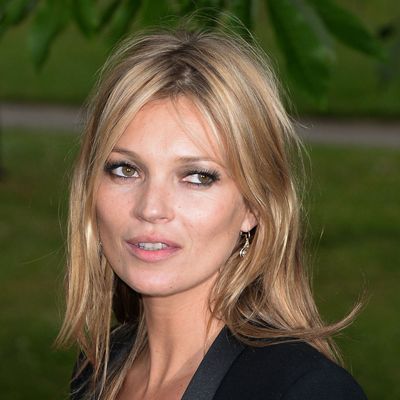 Kate Moss.
Photo: Rune Hellestad/Corbis
When Kate Moss designed her first Topshop collection in 2007, the line completely sold out on the first day. Three years, fourteen collections, and countless one-shoulder minidresses later, Moss "took a break" from the collaboration, purportedly to "work on other projects," although insiders said it was actually because her products weren't selling as well as they had initially. But Moss was, in fact, spreading her name around — since Topshop, she's collaborated on bags for Longchamp, makeup for Rimmel, and phone accessories for Carphone Warehouse. And today she and Topshop confirmed that they're resuming their relationship for next spring.
Moss met Topshop owner Sir Philip Green in 2006, when he bid £60,000 for a kiss from her at a charity auction (which he later gifted to socialite Jemima Khan), and they've remained good friends since. According to the Telegraph, the idea for Moss's return to the brand was born when she went on vacation with Green and his wife in August. After all, nothing reignites old flames like a few late-night margaritas on the beach.
Here is Green's official comment on the matter:
I am personally thrilled that Kate wanted to come back to Topshop to work with us again… The first time around was such a lot of fun, and she has been sorely missed.
Moss is working with her stylist friend Katy England and Topshop creative director Kate Phelan on a collection for spring 2014, to be out in April of next year.