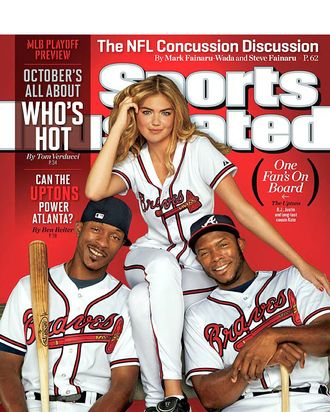 The Uptons.
Photo: Walter Iooss Jr./Sports Illustrated
Now that all magazines have discovered that Kate Upton = newsstand sales, the original Upton champions at Sports Illustrated are just putting her on covers willy-nilly, even if her connection to the headlines is tenuous. This month they squeezed her in between Atlanta Braves players B.J. and Justin Upton (who are brothers but not related to Kate). And to mix it up — or perhaps give her more in common with the cover subjects than a last name — they put her in a baseball uniform, with sleeves and everything! They even kept her shirt all the way buttoned. This marks Upton's third SI cover (she's fronted their last two swimsuit issues), but her first with clothes on. 
This is actually a brilliant marketing strategy, considering Upton's talent for selling magazines. Maybe they should put her on all of their covers and just match her outfit with whatever athlete she's posing next to. Imagine: Kate Upton in football pads. Kate Upton in baggy golf pants. Kate Upton in nothing but a Speedo and gold medals over her chest! They might be on to something here.