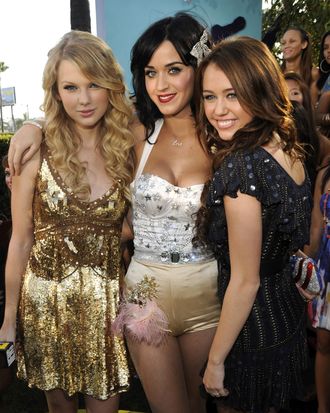 Photo: Kevin Mazur/WireImage
Katy Perry just made things really weird. A routine Q&A session for her new album, Prism, took a decidedly strange turn when a fan asked her the seemingly innocuous question: "What's in your purse?"
A bottle of Killer Queen, the fan was perhaps expecting. Cupcake crumbs. Maybe some Cover Girl "Lash Blash" mascara. Cat chew toy — all the norm. Perry answered that she just "keeps a big empty purse." So far so good.
Then she elaborated on what her purse used to carry, "One of the first times I went to the Grammys, I got to share a dressing room with Miley Cyrus and Taylor Swift." So she asked for a picture with them, right? Which she keeps in a wallet inside her purse? How cute! Yay, female friendship!
No. "I asked them for a lock of their hair from each one of them, which is totally creepy, but awesome."
Hmm, okay. We are thinking, like the word bully, Perry might not know what the word awesome means. And then what? Did Perry insert these treasured locks of hair into Victorian mourning lockets?
"I put little bows on them individually and put them in my purse. And that was my little secret and I'm a freak!"
If news surfaces one day that a strand of Swift's hair and a red velvet hair ribbon were found implicating her at the crime scene for the murder of an ex-boyfriend, we'll know where they came from.