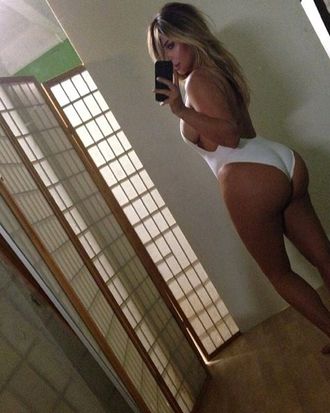 Photo: kimkardashian/twitter
At roughly midnight Pacific time, Kim Kardashian was feeling pretty good about herself. She and the nanny had just put Baby North down, swaddled in her bearskin rug. Tracy Anderson had only yelled, "Do your squats more like Gwyneth!" three times today during class. She had learned her low-carb diet was not just effective but presidential. And Kanye had finally taken off that outfit he had been wearing since Jimmy Kimmel.
Gnawing on a pre-bed snack of zero-carb beef jerky, she spotted a gift from Dov Charney: an old white American Apparel leotard, hanging on her Japanese screen door. The sight of the leotard energized her. "I wonder if I can still fit into that?" she mused. Happy with her (apparently newly) toned-down blonde hair, she opened Instagram, and, just for fun, sunk into a come-hither pose, an old stand-by move she mastered back when she used to wear Herve Leger and date Reggie Bush.
"Just for fun," she said to herself, and snapped. "I'm going to hashtag it '#nofilter' so that haters can't accuse me of hiding behind the low-grade color distortion of a Valencia filter," she continued, snapping the picture from very far away. "I am the master of my own post-baby body reveal. Who needs Ken Baker?"  Pleased with how her sideboob and sidebutt looked in the camera, she triumphantly thought, Baby, I'm back. And 468,000 followers quickly agreed.