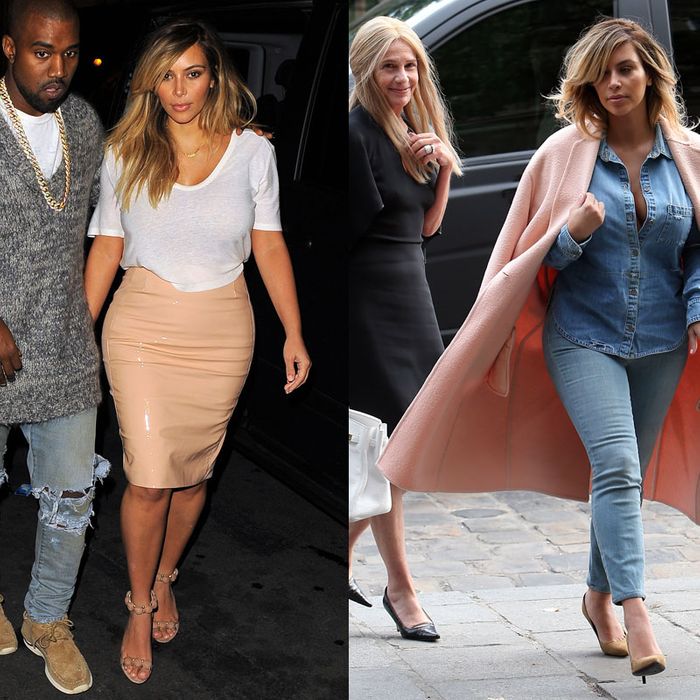 And on their fourth day of letting muthafuckas find them in Paris, Kimye wore denim. For dinner last night, Kanye re-wore his torn jeans, tan sneakers, and white T-shirt; Kim re-wore her strappy Alaia shoes, paired this time with a white T-shirt and nude pencil skirt. Is this the work of Kanye's new minimalist aesthetic? After firing the Kardashian family publicist, is Kim demonstrating her desire for a life less flashy with these luxe but casual clothes?
This morning, Kim went out by herself in a blush-pink coat with narrow lapels (not to be confused with her earlier wide-lapel camel coat) over a denim-on-denim ensemble. Denim-on-denim, you may recall, is a Kanye West style signature. He wears it as a neutral, when he is shying away from attention. And to think, this is a man who once shaved Fendi's logo into the side of his head.
In other Kimye fashion news, they have now received baby clothes from Givenchy, Margiela, Lanvin, Alexander Wang, and Céline.
Phoebe Philo might be operating under the assumption that North is a boy? (The New York Times made that mistake, too.) Or maybe she's just into gender-liberated toddler clothing.