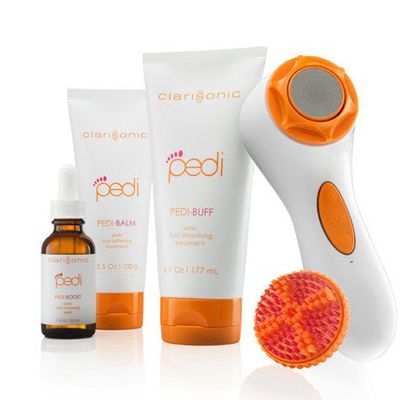 Clarisonic Pedi.
Photo: Clarisonic
I once added up how much I spend on pedicures per year, and the sum was almost a full month of rent. This is particularly horrifying because I don't even get fancy pedicures. I'll go pretty much anywhere, in fact, as long as they put some muscle into the exfoliation process. There's nothing worse than a pedicurist with a light hand. I want my soles scrubbed and polished like marble.
Enter the Clarisonic Pedi, the new foot-friendly version of the ubiquitous face brush that's been vibrating its way into people's bathrooms (and hearts) since 2008. To accommodate tougher skin, the Pedi features a stronger vibrating frequency, stiffer brush attachment, and a metal "smoothing disc" to buff away calluses. I pictured something like a belt sander, which sounded extremely satisfying.
Just like its facial counterpart, the Pedi functions on a timer and makes beeping noises when it's time to move to a different section of your foot. This makes using it while watching Homeland even more convenient, because you can just obey the beeps without paying attention to what you're doing at all.
Following the instructions, I start with the metal disk on my dry feet. (Beep, beep.) My heels are already noticeably smoother. The metal doesn't feel sharp or harsh, although the vibrations do tickle a little bit. I am glad to see that whatever dry skin gets sloughed off seems to stick to the disk instead of flaking all over the place, particularly because I am sitting on our living-room sofa, much to the horror of my boyfriend.
Next step: A dollop of minty-smelling Smoothing Treatment, which is basically just cleanser with exfoliating beads, applied with the brush attachment. (More beeps.) Then I realize I need to rinse everything off, although that step is not specified in the directions. Annoyed, I tromp to the bathroom with my goopy, soapy feet and run them under the bathtub faucet (life is so hard). But my feet do look nice and pink and very clean afterward.
Back on the couch, I smooth on a few drops of Renewing Peel Treatment, which contains lactic and glycolic acids and smells like a potent exfoliating face mask. I let this soak in for a minute and envision fresh new skin cells being born.
Finally, I top this with the Softening Treatment, which is basically just moisturizing lotion, and then put on cotton socks to let my clean, tingly feet marinate in all their lotions.
The final result: My feet were definitely smoother. But it wasn't quite the same as the professional version — my heels weren't as soft, and my dry-skin patches returned within a day or so. (And, if we're being honest, I really missed the foot-rub part of the salon experience.) However, it definitely beat any at-home pedicures I've attempted before, and it was nice not having to tip anyone.