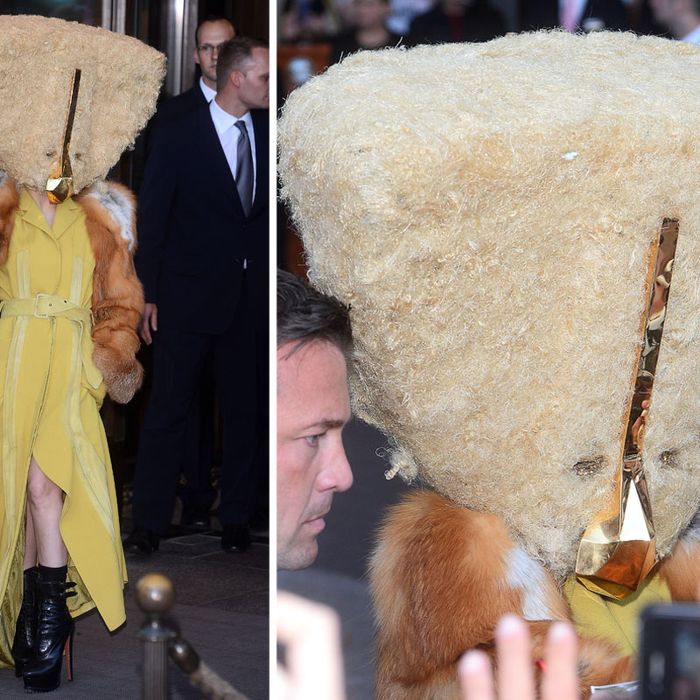 Lady Gaga.
Photo: Splash News
Lady Gaga left her hotel in Berlin this afternoon wearing something truly absurd, which is par for the course and usually fun in an "Ooh, look!" kind of way. But today's outfit was downright confusing. What IS that? The top of a furry totem pole? The remains of a worn-out Lion King costume? Of course, it's probably something faahbulous and artistic, but before any designer takes credit for it, we did some free association around the Cut headquarters. Feel free to add your own interpretation in the comments.
Diana Tsui: It looks like a Chicken McNugget on her head.
Emily Shornick: I thought it was a bird.

Charlotte Cowles: A dirty bird. Like, a really grubby seagull.
Kathleen Hou: All I see is SpongeBob. Or maybe "Hey Arnold"?
Maggie Lange: A moldy Camembert wedge.
Emily: The bird lady from Zoobilee Zoo.
Stella Bugbee: A makeup brush.
Charlotte: The color is really unfortunate. It's like a really grubby, too-old teddy bear.
Stella: A loofah, especially from the side.
Emily: Insulation material, that fluffy stuff.
Maggie: Justin Timberlake's head, circa 1998.
What do YOU see? Weigh in, below.