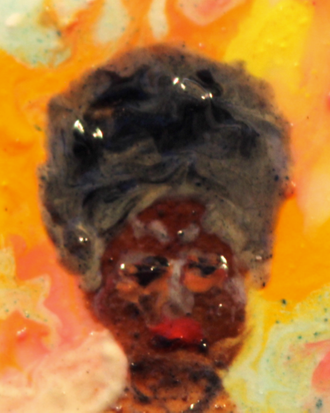 Photo: Courtesy of Tif Sigfried Gallery
Starting next week, Joe Sola, an artist, will exhibit his paintings inside the ear of gallerist Tif Sigfrids.
Sola will place six teeny oil paintings inside Sigfrids's ear-canal gap. The paintings are going to be hung in her ears during gallery hours for the length of the exhibition (October 12 to November 9). Oh, yes, Sigfrids owns a gallery with gallery space. But it's pretty gauche to just hang your reasonably sized work in a reasonably sized room.
Sola has a history of doing kooky performance art. Here's a little more on his background, from the gallery:
In his video work Sola has jumped out of windows (Studio Visit, 2005), been run over by a team of high school football players from Ohio (Saint Henry Composition, 2001), and rode roller coasters with male porn stars (Riding with adult video performers, 2002). In performances he has had male fashion models make art (Male Fashion Models Make Conceptual Art, 2005-9) and talked about his drawings with female escorts, (Talking About My Drawings with Female Escorts, 2010). This will be his first exhibition comprised entirely of oil painting.
A collection of only oil paintings? How cliché.