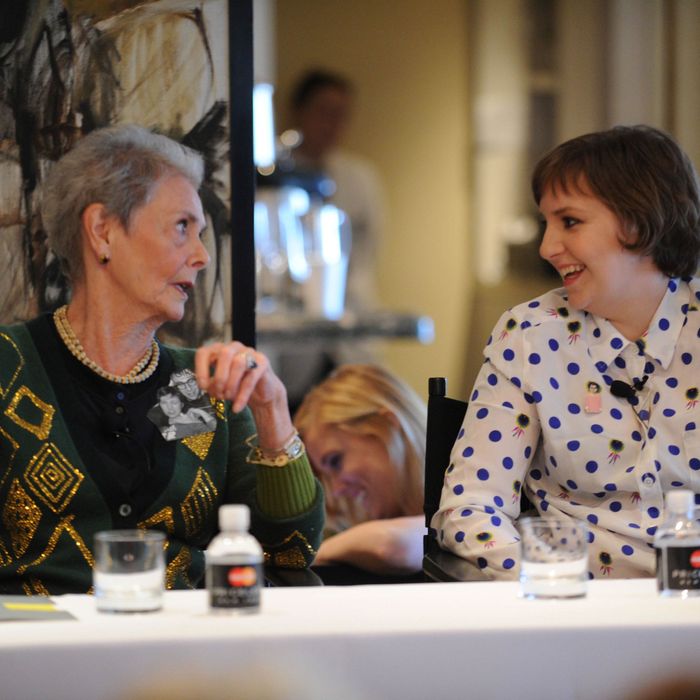 Betty Halbreich and Lena Dunham.
Photo: Bryan Bedder/Getty Images
As you may have heard, Lena Dunham is developing yet another HBO comedy series with her co-writer Jenni Konner. Still untitled, it's about 85-year-old Bergdorf Goodman personal shopper Betty Halbreich, who's dressed well-heeled New Yorkers for decades. Why is Dunham doing a show about upper-crusty fashion, you might ask? She joined Halbreich to answer audience questions at last weekend's New Yorker Festival, where they discussed their many differences. Via the Telegraph, here are their best quotes.
On underpinnings:
Halbreich: "I'm wearing a panty girdle."
Dunham: "I've NEVER worn a panty girdle."
Halbreich: "I know!" 
On Dunham's problematic Emmys look:
Halbreich: "I told you, that blue eye shadow at the Emmys made your eyes tear."
Dunham: "I know. The Emmys weren't my finest hour."
On bottoms:
Halbreich: "You realize that most people have never seen the back of themselves. They've never used a double mirror."
Dunham: "Maybe they don't want to know."
On Dunham's style:
Dunham: "I've been told I have terrible taste."
Halbreich: "Who told you?"
Dunham: "US Weekly."
On Girls:
Halbreich: "I've never seen it." 
This show sounds promising already!