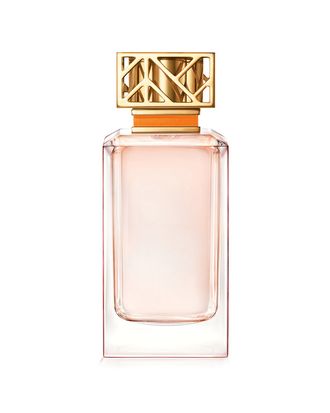 If you have a pair of Reva ballet flats and boyfriend jeans in your closet, Tory Burch's expertly marketed and executed label is coming for you again — this time, with its first signature fragrance. In fact, maybe you already own it. Women's Wear Daily reported that the approachable fragrance quickly sold an estimated $45,000–$50,000 in its first day at Bloomingdale's.
And with its pragmatic mix of feminine with a touch of masculine, it's easy to see why the fragrance is unlikely to offend or polarize anyone, pleasant blending citrus florals, undercut with a hint of cedar. Burch told interviewers that the masculine-feminine interplay came from her parents. Her mother Reva's passion for scent was part of Burch's fragrance memory bank, and her father, Buddy, inspired the medium tone of woodsy vetiver. Her family's love of Chippendale (the chairs, not the topless dancers) furniture inspired the beveled fretwork perfume cap, set on top of a rectangular flacon of Burch's signature orange-pink.
Although last week's Fragrant Friday also explored a masculine-feminine scent dynamic (and the two are even produced by the same beauty parent company Estée Lauder), Burch's fragrance doesn't have Tom Ford's dark, sexy, smoky musk. If last week's scent was a mysterious Marlene Dietrich, this week's is a post-GQ, post-baby Jessica Alba, promoting a line of baby goods. This is the scent equivalent of a dress your mom finds for you —  it might not be be quite your style, but you try it on anyway and it looks good, so you keep it around. Because unless you are Marlene Dietrich (or Tom Ford), you can't be her every day.