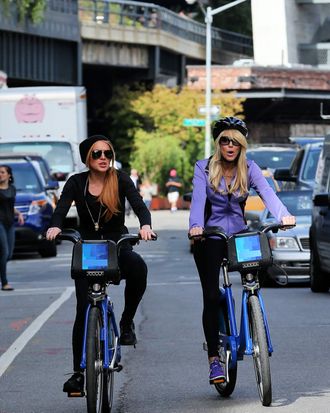 Photo: Christopher Peterson/Splash News/Corbis
Did you know the au courant accessory of the moment is a CitiBike? Oh, it's true. Just let Kate Bosworth tell you all about how the CitiBike is part of her chic, sophisticated, put-together look. These seemingly utilitarian bikes go perfectly with white leather skirts and minimal luxury. The rent-a-cycle wheels even match e-cigarettes.
And they go perfectly with Lohan family DNA. Lindsay Lohan and her mother were spotted on CitiBikes: Dina is rocking a helmet, a roller-coaster expression, and a death grip on the handle; Lindsay L has a ponytail and a soft-knit helmet cap.
One of the funniest things currently happening in America is night-life CitiBiking: the legions of ladies returning from the club in the wee hours of the morning, wearing spangly tops and studded stilettos, precariously pedaling CitiBikes from Meatpacking to Soho or what have you. And this is the sort of CitiBiking we might have expected from LiLo. But no: Lohan is on a wholesome daytime jaunt with her mother— making that minimal, chic, urban, wheeled look work for her.