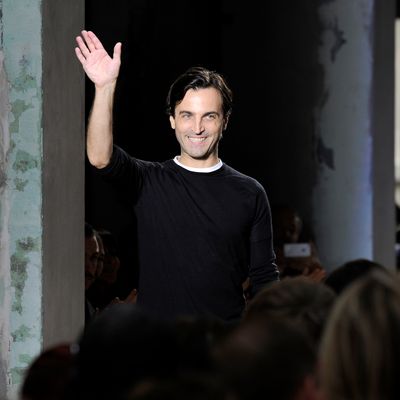 Ghesquiere.
Photo: Giovanni Giannoni/Corbis
Sometimes, if you want something to be true badly enough, you can wish it into existence — at least for a few hours, on the Internet. That's what happened yesterday, when news of Nicolas Ghesquière's supposed appointment at Louis Vuitton swept across the web. Originally reported by Luxury Society, an Asian industry news site, the announcement seemed so obvious (it's been widely rumored for weeks) that most outlets, including this one, were inclined to believe it.
But within a few hours of Twitter frenzy, Vuitton's parent company, LVMH, denied the report, and Luxury Society pulled their story. This morning, WWD ran LVMH's terse official statement: "Nothing has been decided."
Many will interpret this to mean that LVMH and Ghesquière are still hammering out the details of his contract and his appointment is still imminent. And despite how much we may want that to be true — just imagine what Ghesquière could do with a house like Vuitton — history shows that this may not be the case. Remember how certain everyone was that Marc Jacobs was headed to Dior, in which case Phoebe Philo would succeed him at Vuitton? Just like Ghesquière, Jacobs was in talks with LVMH about the job; those talks stalled and eventually broke down, as business dealings so often do. Later, Jacobs downplayed the situation in a Vogue profile:
There have been on-and-off conversations about Dior. I don't know; maybe someday in the future, maybe years from now, I may end up going someplace else, maybe Dior. But right now I am at Vuitton, and all that matters to me is that that's where I am and I'm going to keep doing my thing.
We all know how that turned out, but the point is that these "talks" don't always lead somewhere. Other examples include the rabid gossip about Christopher Kane at Balenciaga last winter, and that time everyone thought Raf Simons was going to Dior and then he didn't — until months later. (What exactly happened there was never really made public, but it seems that his former bosses at Jil Sander replaced him before he got an official offer from Dior, so he spent a few awkward weeks between jobs when no one knew what was going on.) Anyway! As the FT's Vanessa Friedman so eloquently tweeted, "It ain't over til the fat lady signs." Let's just hope that happens, and soon.