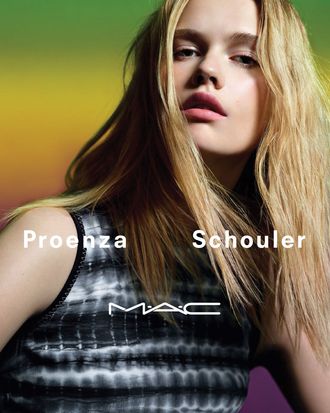 Photo: Mario Sorrenti/Courtesy photo
After an "It" bag and a shoe line, the next logical channel for a growing designer brand like Proenza Schouler is beauty. So of course the brand is entering the beauty industry via a new collaboration with MAC, due out this April. The limited-edition (obviously) collection will include the usual: lipsticks, eyeliners, lip pencils, nail lacquers, and ombré face powders. But don't worry: Ombré face powders are not designed to give your skin the two-tone look of ombré hair. It's just a fancy name for a brick including two or three face powders of complementary shades, which you swirl together to give your face multidimensional, rather than single-tone, color. Information about the color range hasn't yet been released.
The collection's packaging will be inspired by a previous Proenza Schouler collection and, as MAC told the press today, "will be extremely unique." Judging by the sneak-peek photo, the Cut's market editor Diana Tsui bets the inspiration comes from Proenza's surf-inspired spring 2010 collection. Let's hope that means the face powders come in "Sex Wax"-inspired tins and there are tie-dye lipsticks shaped like surfboards.