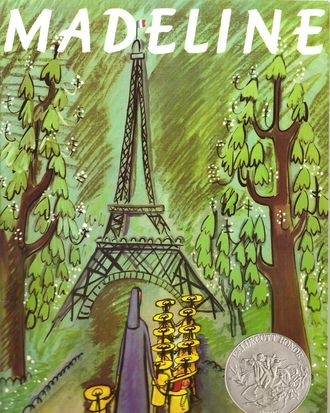 Photo: Ludwig Bemelmans/Penguin Young Readers Group
Great news, adults: The Madeline books are still very popular. After nearly 75 years of marching around Paris, pooh-poohing at tigers, and brushing her teeth, Madeline remains as entertaining as ever to small children. Yes, it's true. Your taste remains relevant, you prescient genius-child turned quirky, intelligent grown person.
John Bemelmans Marciano, grandson of original author and artist Ludwig Bemelmans, currently writes couplets and adventures for Madeline. Like Eloise with less 'tude and more devotion to her peers, Madeline lives in a boarding school with a dozen other young ladies, all cared for by Miss Clavel. The series started in 1939, and by now Madeline has gone to London, the White House, and, most recently, Rome. She also forms unexpected friendships in tales like Madeline and the Gypsies and Madeline and the Bad Hat.
Marciano spoke to NPR about the lasting appeal of this spunky young lady, which he believes is because of her fearlessness. Kids admire kids that aren't afraid of cold weather or mice. Armed with pluck, that girl has a skillful lemonade-out-of-lemons approach to the world. Once, she had to have her appendix taken out, and in a Tom Sawyer–like maneuver, she convinced all of her classmates that this was the most fun, and soon everyone was wailing to have theirs removed as well. A born saleswoman, that Madeline.
Marciano also speaks of Bemelmans's multilingual background, which he thinks "must have driven editors crazy." Speaking French until he was 5 and then living in Germany until his early teens, Bemelmans often attempted to rhyme words that just wouldn't. For example, Genevieve and beef. The best dinner grace of all dinner graces, which seemingly appeared in the original Madeline book, also involves a wonderful non-rhyme:
We love our bread, we love our butter, but most of all we love each other.
It doesn't rhyme at all, really! But it kind of works? And it's filled with such wonderful things to think about, like the food you are staring at and the people you're standing next to.
In conclusion, so thrilled to announce that things you once loved are still currently beloved and not necessarily on their way to Brooklyn, yet.