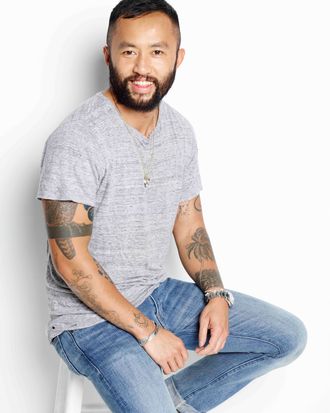 Somsack Sikhounmuong, Madewell's new designer.
Somsack Sikhounmuong presents his first-ever collection for Madewell this morning. When the Cut spoke to him over the phone last night, he insisted he wasn't nervous: "I'm just excited!" he said. "We've been working on this for so long — six months! — and I just can't wait to show everybody." This isn't just happy-go-lucky optimism: The Canadian-born, Parsons-educated designer knows what he's doing. After graduating from design school in 1999, he worked briefly at Diane Von Furstenberg before landing a job as a bag designer at J.Crew (Madewell's parent company). He rose through the Jenna Lyons accessories team and eventually made his way into apparel. "And now, Madewell!" he says, as though helming a major women's label were just a great accident.
Sikhounmuong (pronounced See-koon-mong) replaced Madewell's former designer, Kin Ying Lee, earlier this year, and although he's careful to avoid words like revamp or makeover, many would agree that the brand needed a new vision — there were too many trendy, quirky pieces and not enough of the comfortable basics that won customers' hearts when the label's first store opened in 2007. Sikhounmuong intends to reinstate those staples, which he describes with adjectives like authentic, warm, lived-in, and go-to. Speaking of, when asked what he was doing the night before his big debut, he laughed. "Um, I think I'm going to go home, order some takeout, and watch some TV. It's an early morning tomorrow!" Read on for more about his first collection and grand plans for the label.
What's your goal for your first collection?
I'm on a quest to find the perfect dream wardrobe for our girl. For spring, we were thinking in terms of packing and traveling. It was about your suitcase before your trip, and the suitcase you bring home afterward. When you're packing, you bring the perfect pair of jeans, the perfect shirt, some great shorts, an army jacket. But then when you come back home, that suitcase is going to be totally different.
What's the destination in this fantasy trip?
This is obviously a girl with a lot of time on her hands, because we took her all over the world. We dropped into Tokyo and got some really beautiful tie-dyes and indigo washes on denim and chambray. And then we swung by Morocco and found some northern African embroidery and really cool tunics with saturated reds and burnt oranges. And then we went Mexico and grabbed some little peasant dresses and huaraches with handwoven details. And we took her home after that! Those are the big ideas.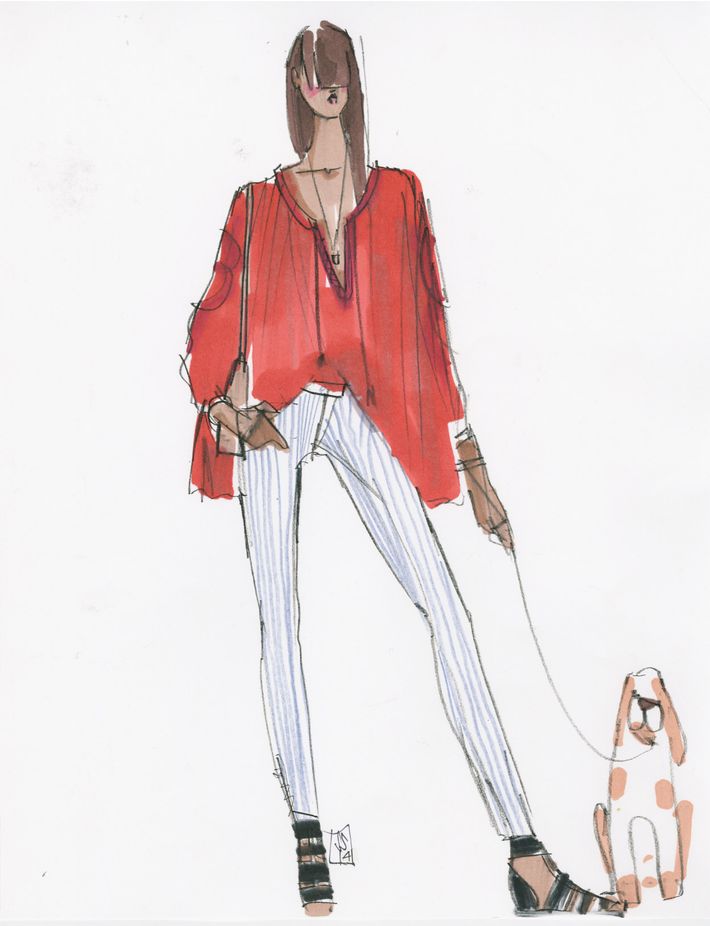 What are you bringing to Madewell that wasn't there before?
I have an appreciation for the authentic item. Maybe it's something that you saw your brother wearing when you grew up — like a great rugby shirt or a great sweatshirt that your dad wore — so, finding all those great, go-to pieces, and then layering on the more feminine things. It's often a combo of the feminine and masculine, or casual with pretty. I don't think anything was lacking [before I came along]. I just knew that we had really beautiful denim and leather accessories, like great leather boots and jackets. So I just want to make that more prominent.
Who is the Madewell woman specifically? Can you describe her?
It's often that one girl that you're sitting next to at a dinner party in New York who is just so entrancing. Just her conversation, the way she's dressed, how she doesn't try too hard, but still looks really cool. She's both confident and laid-back. You just become enamored by this girl, regardless of age — she could be 16 or 61. She's just this authentic, soulful woman.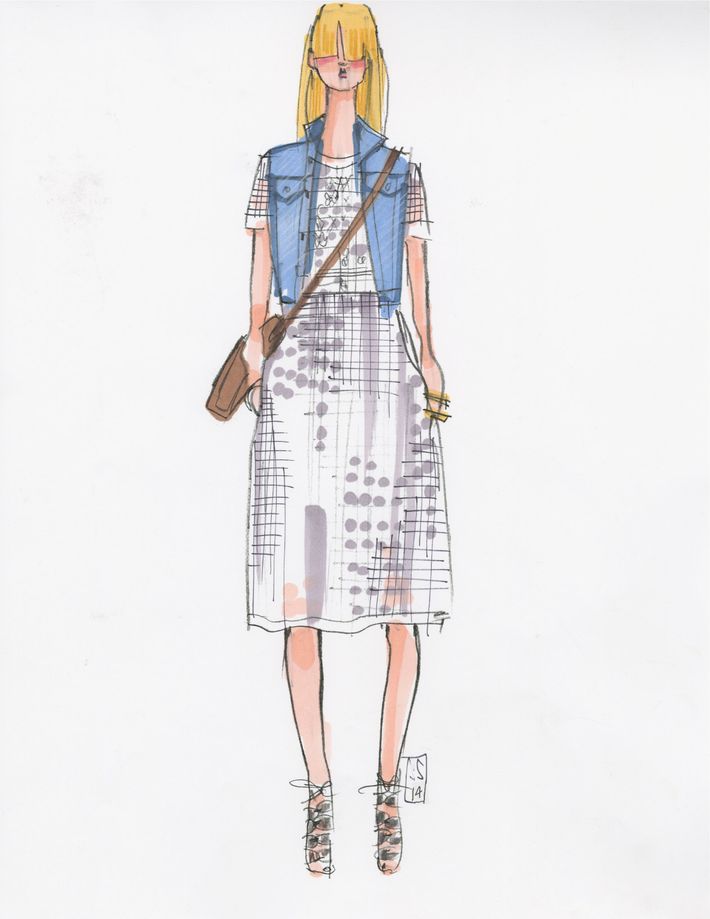 Madewell is really known for its denim. What role will that play in the brand's future?
I love denim inherently. I was just cleaning out my closet this weekend, and I didn't throw out one piece of denim —  I have a huge stack. You really can't have too much, in my opinion. But each season we're developing new techniques —  this season we lightened up the washes a little bit, and created an abstraction, where we sucked the colors out and left some pools of blue here and there. But denim is such a big part of our heritage.
How would you define Madewell in relation to J.Crew, its parent company?
We do overlap in terms of certain things, but we're trying to carve our way out. We're really easy and casual and downtown. Denim will always be one of our biggest components and same with leather, which will always be big. It's definitely its own thing.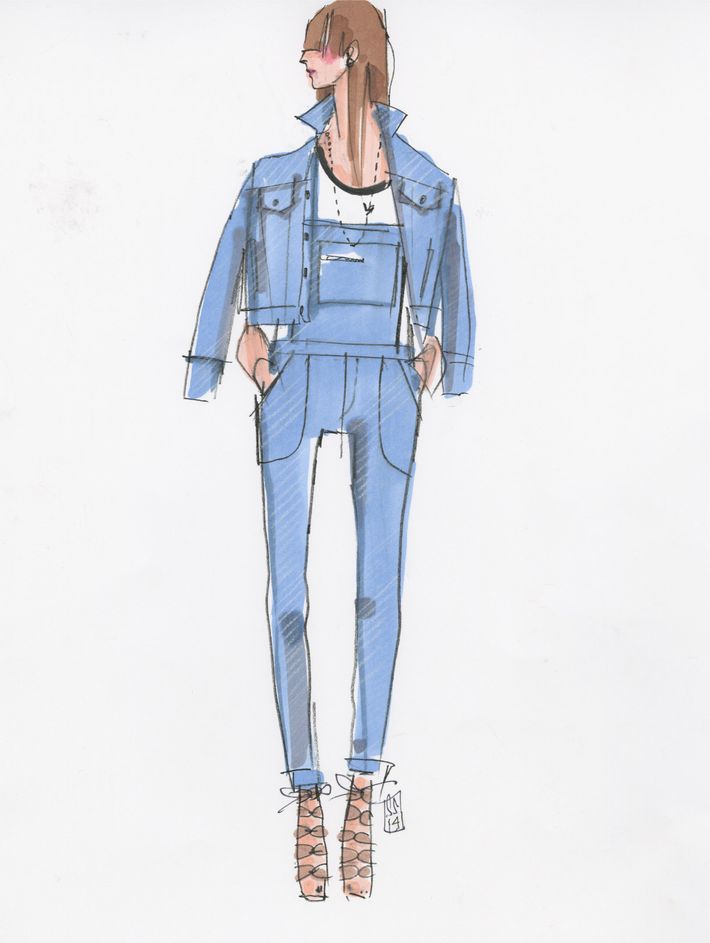 Where do you go for inspiration? Do you go online, or make mood boards?
It's a combination of mood boards, living in New York, and people watching. There's nothing more inspiring than grabbing a cup of coffee and sitting on one of those wonderful benches outside of Balthazar for a few hours and just watching people. And I've been fortunate enough to travel a lot for work. Going to Paris and Tokyo, you're constantly bombarded by different ways to look at and wear things.
What's your personal aesthetic?
The older I get, the more I rely on my instincts, in terms of what I look good in. I love vintage army stores and T-shirts. It's always great to throw on that vintage T-shirt with a dress-up wool trouser.
What's your ideal for Madewell, in the future?
I've always had an appreciation for the beautiful, highly sensory things. I've always loved great washes, and embroideries, and things that have history. So that lends itself to Madewell, because it has that warm hand and looks casual but not messy.