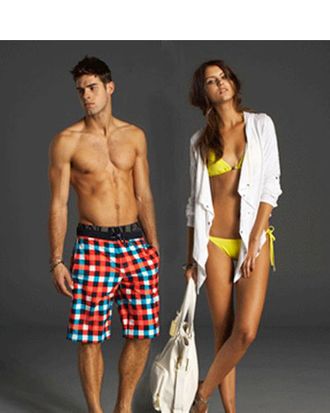 Pre-binge.
Photo: Armani Exchange
Male models are often just as careful about what they eat as their female counterparts, which results in similar eating problems. Chad White, who models for Hugo Boss, Gant, and Bonobos, offhandedly told the Huffington Post that he allows himself one night a week to eat everything — and he means everything — he wants: "I'm pretty strict, except Friday night is my binge night. That's Billy's Bakery and cookies times ten. But then I always feel bad the next day." Otherwise, he sticks mostly to kale smoothies, blended in his Vitamix — a regimen that would drive anyone to a Billy's spree after a few days.
In related (and lighter) news, the same piece quotes Dolce & Gabbana model Cory Bond on the benefits of a tiny razor called the Peanut, which can "trim anything" (emphasis ours). We'll take the guy with a Peanut over one with a Vitamix any day, thanks.