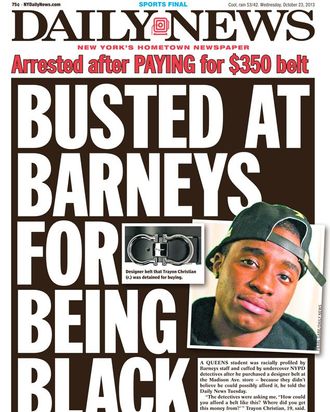 Whoops.
Photo: Daily News
On April 29, Trayon Christian, a 19-year-old engineering student from Queens, decided to blow his paycheck like the best of us: He went to Barneys and bought a $349 Ferragamo belt that he'd been wanting for months. According to the Daily News, which put Christian on its front page this morning, he went to the store's Madison Avenue flagship and paid for the item with his debit card.
'I knew exactly what I wanted,' Christian said. He'd seen the belt on a lot of his favorite celebrities, including rapper Juelz Santana.

'It was a quick trip. I gave them my debit card, I signed my name,' he said.
The cashier asked to see ID, as responsible cashiers do, and then completed the transaction. Christian took his new belt and left the store. But then, when he got outside, he was approached by two undercover police officers who questioned him about his purchase. They accused him of buying the belt with a fraudulent card, handcuffed him, and brought him to the 19th Precinct, where he was held for somewhere between 42 minutes (according to the NYPD) and two hours (according to Christian). When Christian explained that he paid for the belt with money he saved up from his work-study job at the New York City College of Technology, they finally released him without charges.
Christian, who has a clean record, was so upset about the incident that he went back to Barneys and returned the belt a few days later. Now, he says he's filing a lawsuit against the NYPD and Barneys for causing him "great physical and mental distress and humiliation" (and, we might add, the crime of spoiling his enjoyment of a nice new belt).
The city law department told the Daily News that they haven't seen the court papers yet, but the NYPD says that Barneys is frequently struck by fraudulent purchases:
The NYPD said it has gotten 53 grand larceny complaints this year for credit card fraud at Barneys' Madison Ave. store and has made more than 47 arrests. But it's unclear how many of those arrested were actually charged with a crime and how many were, like Christian, released.
The NYPD's history of racial profiling is nothing new, but the Barneys connection is interesting (if it can even be proven that the store had anything to do with Christian being targeted).
Update: A Barneys spokesperson has released the following statement about the incident.
Barneys New York typically does not comment on pending litigation. In this instance, we feel compelled to note that after carefully reviewing the incident of last April, it is clear that no employee of Barneys New York was involved in the pursuit of any action with the individual other than the sale. Barneys New York has zero tolerance for any form of discrimination and we stand by our long history in support of all human rights. We are very sorry that any customer of our store would have this experience.