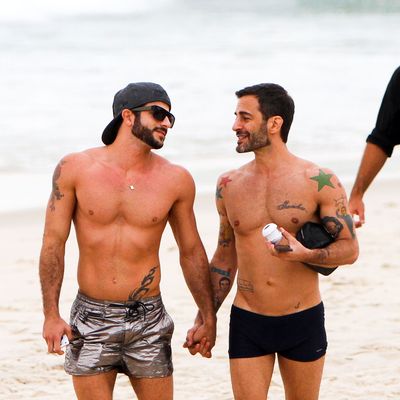 Sad.
Photo: ARIO/AKM Images/GSI Media
Vuitton isn't the only Louis that Marc Jacobs left last week — he also broke up with his Brazilian porn-star boyfriend, Harry Louis. Together for a little over a year, the pair split a few days ago, and Harry announced his singledom with a rather dramatic, exclamation-point-filled Instagram post over the weekend.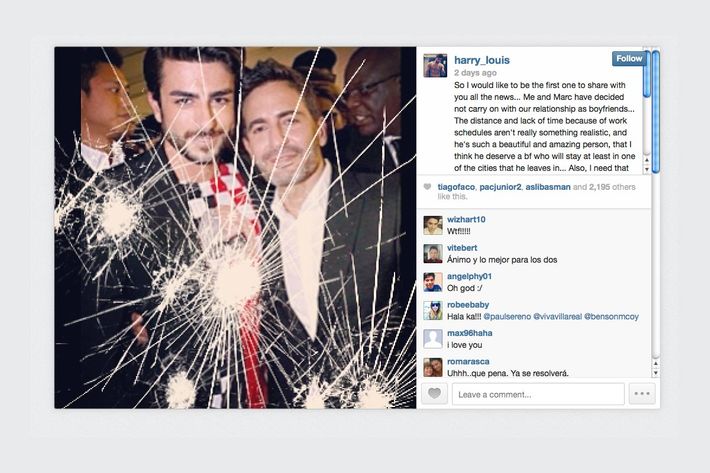 Accompanied by a picture of the former couple broken into pieces, Harry wrote:
So I would like to be the first one to share with you all the news … Me and Marc have decided not carry on with our relationship as boyfriends … The distance and lack of time because of work schedules aren't really something realistic, and he's such a beautiful and amazing person, that I think he deserve a bf who will stay at least in one of the cities that he leaves in … Also, I need that too … We love each other very much, and that it was a decision from both!!!! Every special minute we've spent together will be treasured, and a new chapter of our both lives has started … Both of us focusing in work, and make it work!!!! So, for those who were always supportive of us, please don't be sad, live goes on, to all of us … And for those who were praying that this day were coming, there you have … Marc Jacobs and Harry Louis aren't officially a couple anymore!!!!
Harry is not the first of Jacobs's significant others to announce their split via social media: Lorenzo Martone, who dated the designer for several years, confirmed their breakup via Twitter in 2010. Anyway, so long, Harry, and thanks for all the memories, pomade, shirtless beach photos, and excessive exclamation points.