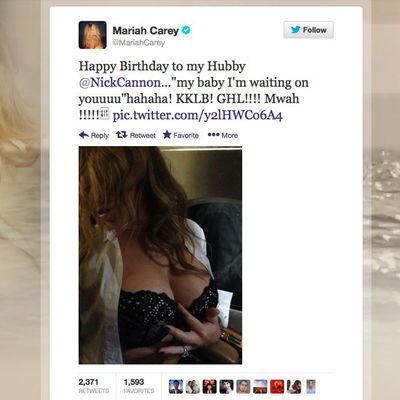 Photo: MariahCarey/Twitter
Social media is so wild, with all its blending of public and private! The world of social media offers insight into both individual psychology and group behavior. It's a fascinating world, right?
It sure is, because it's a world we share with Mariah Carey on the occasion of her husband's birthday.
Yes, Mariah Carey had a gift for her husband, Nick Cannon. She hoisted her boobs into some lingerie, turned away from the camera, and snapped. Then she wrote a caption and sent that little message off to 13 million people.
This was Nick Cannon's birthday present, on the occasion of his individual birth. This wasn't a gift to the world for Earth Day or Valentine's Day. But her beautiful love for him knows no bounds. It is un-corseted. Here's how she phrases it:
Happy Birthday to my Hubby Nick Cannon. 'My baby I'm waiting on youuuu' hahaha! KKLB! GHL!!!! Mwah !!!!!
The first acronym, in case you didn't know — and really, why would you? — is a special Mariah Carey acronym. She sends it only to her beloved. It means "okay okay lover boy." No one is sure what GHL means in Mariah's world, but guesses are always welcome.
But let us return to our world and analyze the psychology behind these actions. Is Carey so in love that she forgot that a group of people larger than the population of Greece would be receiving this message? Was this a devil-may-care shout-out? Was she giving a very sideways stroke to Cannon's ego by telling the world about how hot his wife is? Or is this a subtly belittling message to Nick, reminding him that he is just one of her 13.8 million fans?
Happy Tuesday, Earth. Mariah and her girls say "Mwah !!!!!"