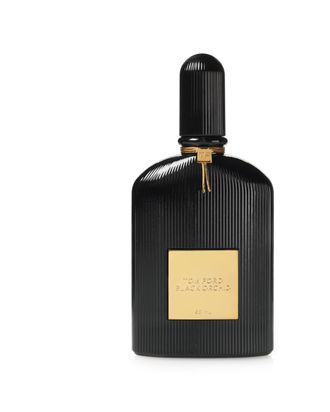 Photo: Courtesy of Tom Ford
In the Lalique, limited-edition, black crystal bottle with a heft satisfying enough that Jennifer Lawrence should consider chucking it at anyone who advises her to give up Philly cheesesteaks, Tom Ford Black Orchid smells intimidating. You smell it and think, Whoa, that's way too strong. But spray it on your skin and the scent transforms with your body heat and chemistry to become a beautiful, fuller, warmer version of itself. The strength is tempered and becomes a multilayered sandalwood musk. I know this because of the scent's richness, and also because the press release helpfully informs me that it contains notes of wood, bergamot, black gardenia, and sandalwood (score one for the old schnoz in successful note identification — maybe not so dull-nosed after all). One astute Internet commenter accurately called it "the Marlene Dietrich of fragrances." It's a sexy (because duh, Tom Ford), androgynous, musky scent that resists being cast as overtly masculine or feminine.
It smells like something a cool young, downtown thing with grown-up taste; a sexy, non-creepy mortician (the scent is a little dark); or an expensive cougar (not like a Real Housewife — like Julianne Moore, a Tom Ford muse, of course) would wear. Or, if you fall into none of those archetypes, like someone who just likes a really decadent scent. It is what Lady Gaga's Fame fragrance could have been, had she not resorted to the need-to-shock gimmick of creating one with top notes of semen and blood.
It also has incredible staying power, but with the ability to stay your little secret, meaning only you and someone skin-close to you can smell it. I sprayed it on once at 1 p.m. and wore it to SoulCycle that night. Even after a class filled with the sweaty musk of 60-plus Type A people trying to follow the instructor's direction to "Let go!" I still felt like I was in a perfume-protected bubble. This is probably what wearing Tom Ford feels like. My scent kicked the ass of SoulCycle's Jonathan Adler grapefruit candle.
Is it a super accessible or safe fragrance? No. But if you want a safe fragrance, you should probably go find one named Baby Pink or Purple, not Black Orchid.