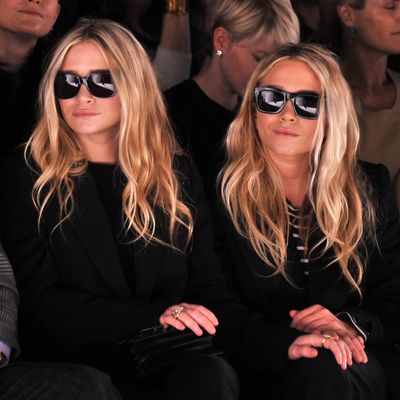 Photo: Stephen Lovekin/Getty Images
As the 2001 pioneers of boho-chic, Mary-Kate and Ashley Olsen were also the original arbiters of casually done hair. That done-undone thing that is being lauded as a hair trend for right now? The Olsen twins (and, yes, the French) have been doing that since birth (see here for evidence).
Their hairstylist Mark Townsend (who has been working with them since 2002 — when they were filming their Italian caper When in Rome) revealed to the Coveteur that the Olsens' hair routine is actually as low-key as it appears. It's not quite, This is just how my hair looks after yet another seamless day in the life of transitioning from child star to critically lauded fashion designer. But very close.
The secret to that tousled texture appears to be dry shampoo and genetics. Townsend tells the Coveteur that they even taught him a thing or two about embracing your hair's natural texture. "Everything I know about hair texture, I learned from Mary-Kate and Ashley, or, more appropriately, I have such an incredible appreciation of hair texture because of them. They are blessed with having great texture and natural wave in their hair, so we don't have to spend a lot of time to get that perfectly tousled look. The biggest secret is the dry shampoo – it gives the hair such amazing texture."
Other interesting tidbits: Ever the minimalist, Mary-Kate even puts a cap on the number of hairpins allowed in her hairdo. "Her biggest rule: no more than 5 hairpins ever and I MOSTLY stick to that!" And they love a DIY mix that Townsend made for them using health food ingredients: "I recently made up a conditioner for the girls to take with them on their vacations and told them to put it in their hair before swimming and while in the sun; it was coconut oil, almond oil, jojoba oil, and vitamin E. All things I picked up at the health food store! When they got back, they both asked me for more and I could feel a huge difference in their hair. They use it a couple times a week and leave it in for up to an hour."
A hair conditioner branded by The Row would go just perfectly with our $39,000 backpack.