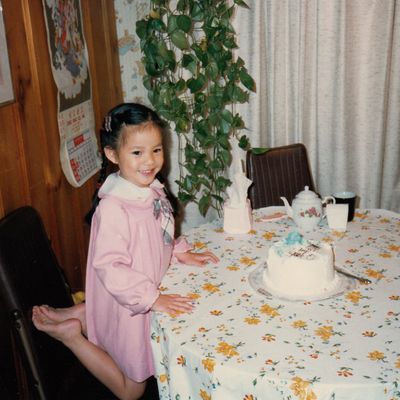 Photo: Courtesy of Kathleen Hou
The Cut would like to officially introduce you to your new source of beauty and wellness news and features, GIF tutorials, and up-and-coming beauty-brand discovery: Kathleen Hou, our new beauty editor. Kathleen joins us from Fashionista.com, where she was a beauty and fashion contributor. She's already hard at work, introducing you to new sold-out brands at Barneys and the quirky underpinnings of Mary-Kate Olsen, organizing Cut nail polish-naming competitions with high stakes, and setting Google alerts for all Rihanna and/or Miley Cyrus and/or Kim Kardashian hair-related news. Other things of note: Her professional claim to fame is interviewing Eugene Fama and Snooki in the same day; she plans to start a Cut YA teen club with Diana Tsui; and her life's dream is to meet Tom Ford and Grumpy Cat (not necessarily at the same time). To introduce herself, she's compiled her favorite beauty fantasies, in GIF form. Welcome!
Morning beauty routines would be like this.
Batman would hand me a towel after my shower.
Hair flips would be extra bouncy.
Trips to the dentist would elicit this much joy.
Fixing my makeup would be this easy.
I'd know how to do lashes like this for my next party.
Cuddly animals would help me with back-related wardrobe chores.
Chanel's next collection of nail polishes would be this trippy.
A perfect cat eye would come with a free kitten hat.
I could slow-blink and look as good with a tooth gap as Abbey Lee Kershaw.
The beauty ideal.