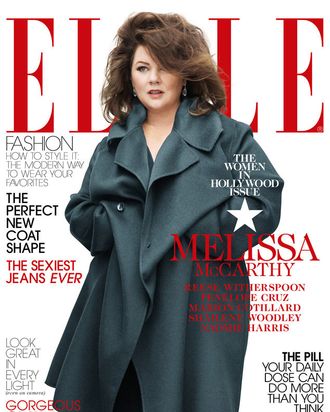 Since images of Melissa McCarthy's November Elle "Women in Hollywood" cover surfaced. the magazine (where, full disclosure, I used to work) has taken serious flak for featuring the actress covered up in a draped, charcoal coat. The Internet erupted in a full-scale riot, especially since the other three covers featured waifish actress wearing far more revealing clothing. Elle's "Women in Hollywood" covers, which try to represent a diverse selection of actresses, often result in some controversy. (See: the 2010 Gabourey Sidibe incident.) In light of this recent scandal, Elle felt compelled to issue a statement, defending their styling choices.
Funny, even though McCarthy was at the center of a stormy body image versus the fat-shaming media argument, nobody had stopped to ask McCarthy if  she herself would have even been comfortable showing skin on the cover of a magazine. Was she even remotely outraged, or just excited to a) grace the cover of a major magazine and b) look gorgeous and glamorous, as she did? Well, last night, E! Online stopped McCarthy on the red carpet of Elle's annual Women in Hollywood party and finally just asked her:
Guess what guys! She's cool with it.
'What I found so bizarre is I picked the coat. I grabbed the coat. I covered up. I had a great black dress on but I thought, it comes out in November. I was so sick of summer. I live in Southern California. I was like, 'Give me a big coat to wear. Give the girl some cashmere!'
She was attending an event hosted by Elle, honoring her contributions to film, so maybe her response was fine-tuned, Stockholm Syndrome–style, but McCarthy seemed pretty adamant that the choice was hers, and not some conspiracy to make sure nobody over size zero looks good on the cover.
'I picked the coat,' McCarthy reiterated. 'They were like, 'The dress is really great,' but I was like, 'Yeah, but look at this.' I was just shocked I didn't steal it. Now I think I really should have the coat. I'm petitioning for that coat. Give me that coat. I earned it, damn it!
That settles that.