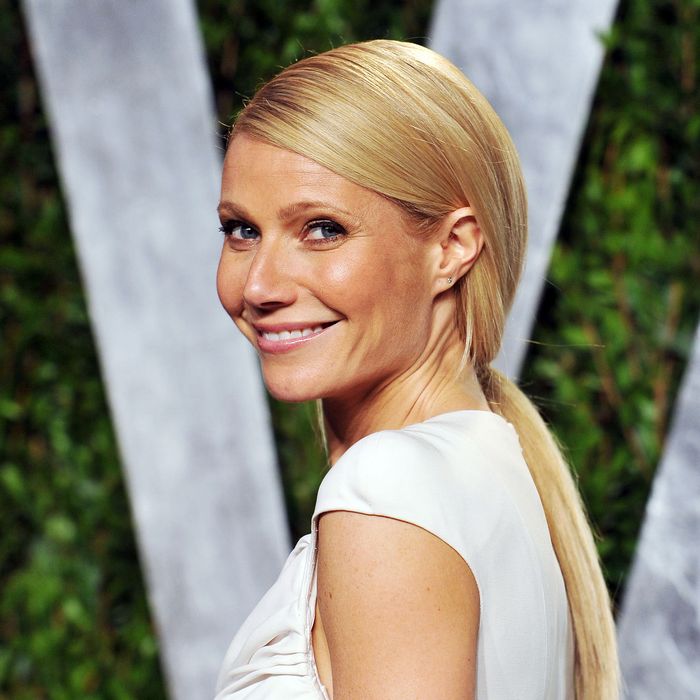 Photo: Pascal Le Segretain/Getty Images
When celebrities of Gwyneth Paltrow's caliber want something from a designer friend, usually all it takes is a nice phone call. ("That dress from the fall 2004 collection? In puce? I'm sure we can arrange that.") And so the GOOP founder, ever generous with her influence, will soon share these special orders with her loyal fans. In time for the holidays, she's partnered with designer Michael Kors to sell a range of her favorite pieces from his collections over the years. It's a win for everybody — Paltrow gets to replace her 10-year-old Kors cashmere cape with a new one, Kors doesn't even have to design anything, and everyone makes money.
WWD published interviews with Paltrow and Kors today, which consist mostly of gushy quotes about their mutual admiration. (Paltrow on Kors: "Michael's clothes are gorgeous, staple, American classics that never go out of style." Kors on Paltrow: "When I look at anything that she is cooking or just talking about food, it turns into food porn for me." Aw.) But more important, this partnership signals the growth of Paltrow's retail operation, which also featured a high-end collaboration with Stella McCartney a few months ago. She currently has several designers creating exclusive items for GOOP, including Matthew Williamson and Alice & Olivia.
In many ways, Paltrow is reinventing the business model of celebrity clothing lines. Rather than "designing" her own collection, as so many actresses and musicians claim to do, she simply endorses other people's work and takes a cut of what she helps them sell. It's only a matter of time before others follow suit.