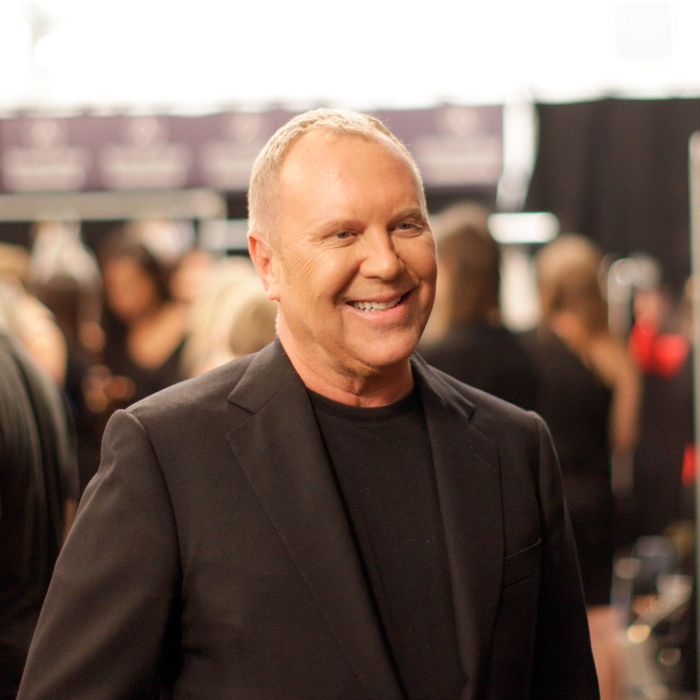 Michael Kors.
Photo: David X. Prutting/BFAnyc.com/BFA NYC
Even though he's surrounded by lines of people (mostly teenage girls) waving free T-shirts and camera phones, Michael Kors is unflappable. With his signature tan skin, white teeth, dark aviator glasses, and black blazer, he has the polished presence of someone who knows he's in charge of a very well-oiled machine. "It's a big day!" he booms, giving me a firm handshake.
More specifically, it's World Food Day, and Kors employees are spreading the word by handing out free T-shirts printed with the slogan "#WatchHungerStop." Several of the designer's celebrity friends, like Heidi Klum, Savannah Guthrie, and Victoria Justice, have tweeted pictures of themselves in the shirts, and recipients are encouraged to follow suit. "We're just trying to raise awareness," says Kors. "We're not trying to get you to buy anything. We just want people to understand that they can help."
What drew Kors to this particular cause? "Well, as much as I love doing a fashion show, and it's exciting and fun and glamorous and all that, my favorite thing about being a designer is seeing someone be transformed," he says. "You know, when you put on the right pair of jeans and the right shoes, and you look in the mirror and you're like, 'Ooh!' I love that! But over twenty years ago, I started working with God's Love We Deliver, here in New York, and I saw that when you delivered a meal to someone, nutrition was the quickest transformation, far faster and more effective than anything I could design." Let it be known: Kors is possibly the only designer to liken jeans to a square meal and actually make sense.
He continues his impassioned spiel: "I mean, a cappuccino in New York is, like, $5 at least. And that's 30 meals! A whole month. You don't have to be a billionaire to make a difference. You can change someone's life today!" 
But does Kors ever find it a little bit, well, ironic to fight hunger when the fashion industry is known for promoting thinness? "I think they're separate issues," he says, shaking his head. "And health has always been important to me. I want people to feel good about themselves, and if you can do that through nutrition or through what you're wearing, that's great. Feeling good always been my modus operandi."