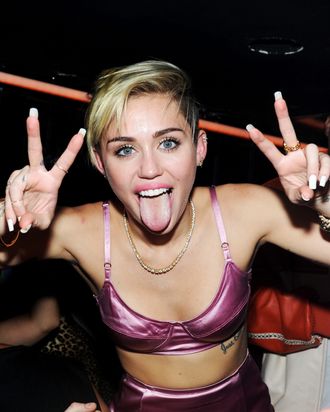 Photo: Jamie McCarthy/Getty Images
Because she marked it with her tongue, the Internet now belongs to Miley Cyrus.
We are the fools for not realizing sooner what was happening. Like a little brother licking all the cookies to claim them as his own, Miley has used the power of her tongue to take what once belonged to us. Miley has glazed the Internet with her metaphorical saliva. We still want the cookies. We want the spit not to matter, but it does. Miley Cyrus owns the Internet.
She played a well-fought game of Capture the Attention Span, and each day, her team manages to seize new ground. Somehow, both willingly and begrudgingly, we forsake our land to Miley's Miles. It is her territory, and she will let us know when we can visit.
Anyway, TMZ reports that Gamelink offered Miley $1 million to direct porn. The offer does not indicate that she should star in this film. Instead, she will have full creative control. When the porn world gazes upon Miley, they do not see a body; they see innovation and vision.
And Robin Thicke, a man who stood close to Miley for a short period of time on live television, has deemed himself the Grand Master "Twerkee" to Oprah. In the world today, you are defined by your proximity to Miley's booty-shaking.
That's all for today. What treasures and tribuluations will come tomorrow on Miley's Internet, we cannot say.