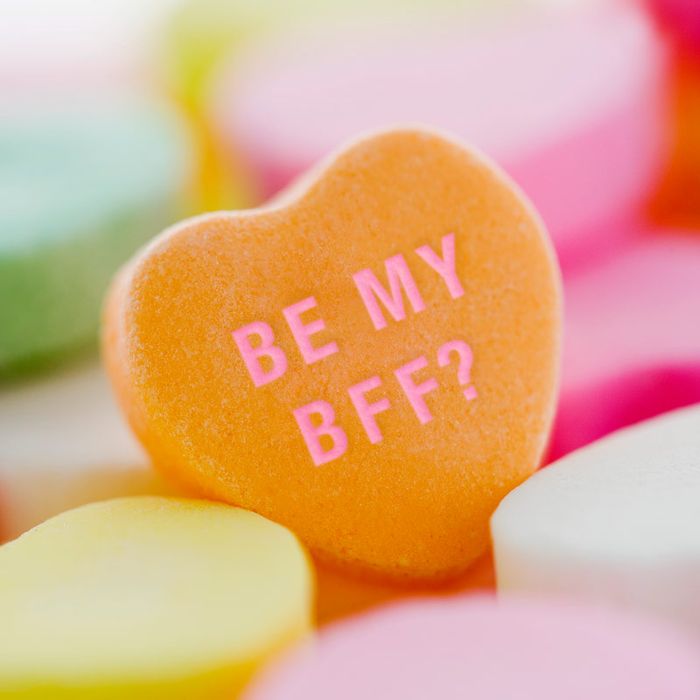 Photo: Michael A. Keller/? Corbis. All Rights Reserved.
I could tell she was courting me. The constant compliments about my accessories. The invitations to lectures at the library. The birthday card on my desk with an offer to buy me a celebratory bourbon. In hindsight, it seems so obvious that we were destined to be more than co-workers. If I had made a list of qualities I desire in a friend (willingness to participate in impromptu dance parties, commitment to late-night snacking, tendency to get into spirited arguments while drunk, equal interest in classic literature and celebrity gossip), Lavanya would have met all of them. I just didn't know it yet.
These days, she freely admits that she actively pursued me for friendship, just as I admit I sort of had to be wooed. It's a story we tell — interrupting each other, adding little details — like any cute couple recounting their origin myth. Because just like romantic relationships, so many friendships begin with one person pursuing the other. And I'm here to tell you it's not desperate or weird. It's smart.
We still don't have a good way of talking about pursuing friendship. Years of style-section trend stories have documented modern problems with finding and forging friendships. The term "friend crush" gets thrown around, or its gendered cousin, the "girl crush." (See the lovely 'zine and popular Tumblr on the subject.) And, as has become de rigueur for low-level social insecurities, a few apps have appeared to help people forge friendships. A new one called Ketchuppp promises to help you make time for people you love platonically. And when I interviewed Tinder co-founder Justin Mateen, he told me they hope the app will eventually be widely used to find friends, not just make dates. "In every kind of relationship there's a person being pursued and a person who's a pursuer," he says.
But most of our courtship narratives are still romantic, which really tends to obscure the importance of friendship's early stages, and downplay the thought and skill that goes into cultivating meaningful platonic relationships. We tend to second-guess ourselves when we feel that jolt of friend attraction. A woman I know who recently moved from Houston to Los Angeles was telling me about a woman she met and really wanted to befriend. "It seems like she has so many friends already though," said the new girl in town. "Do you think she'd mind if I asked her to hang out?" "You have to ask her!" I said. I have heard many women describe the first time they met a friend and just knew they were destined for years of inside jokes and hang times on the couch and late-night party antics.
"Nearly all friendships are based on a spark of mutual attraction. Some people describe platonic love-at-first-sight stories, wherein they were instantly drawn to a new acquaintance and just knew they would befriend her," says Carlin Flora, author of Friendfluence: The Surprising Ways Friends Make Us Who We Are. Still, she says, "We often drift into friendships, especially when we're young and in a work or school setting that makes it easy to automatically ramp things up without having to make a concerted effort to develop the friendship. The main point of my book is that we should be more conscious of how and whom we befriend, since these people have a huge impact on our life trajectories."
Sometimes the feeling isn't immediately mutual, and it takes a little bit of pursuit. In a recent interview about their friendship, high-profile friend-couple Sheila Heti and Miranda July described how Heti courted July after they first met in a professional context. "I thought: 'She'll think I want to be friends with her because she's Miranda July,'" Heti writes. "But I felt a real human connection and decided not to look at the world that way. I had this instinct that we had a lot to say to each other. So I took a leap of faith and emailed Miranda." Echoing a much-discussed New York Times piece from last year about how hard it is to make friends in your thirties, July writes, "It's not always easy to make a close friend at this age. Maybe we needed that level of formality, a purpose. It feels like one of my first real adult friendships — there's not this need for parity that you get when you're younger. Or this merging. It's more intimate and more boundaried; we know what we both want."
Broadly speaking, though, women are still light years ahead of men when it comes to the direct pursuit of platonic love. "This division is breaking down somewhat with younger generations, but one factor still leads some men to not pursue friendships outside of 'safe' group activities: homophobia," Flora says. "Women who ask out other women on friend-dates might feel awkward or weird or pushy, but they are not usually worried about appearing gay." This came up again and again when I interviewed men about modern masculinity: They feel weird pursuing other men for friendship, or opening up to even those they considered pretty close friends.
This quasi-romantic perception might scare off men for fear they'll seem gay, but it can hinder women from actively seeking out friends, too. Sex and romance are still the primary context we have for deliberately pursuing relationships, and we're just starting to develop an alternate vocabulary. "Girl crush," for all its positive associations, still has a slightly dismissive tone, as if it exists only in contrast with "real" crushes of the romantic variety. And so, even for a grown-ass woman who's secure in her sexuality, openly courting someone for friendship carries with it a sense of desperation. It's okay to work hard to form a romantic relationship, but pursuing friendship in the same way is just needy or weird — like a geeky teenager looking for a seat in the cafeteria.
Active pursuit makes total sense, though, if you consider friendship to be just as important as romance. This really hit home for me when I heard the Swedish duo Icona Pop sing, "All I need in this life of sin is me and my girlfriend." It's a play on a Tupac song, also reimagined by Jay Z and Beyoncé, but these Swedish ladies take it out of a romantic context and into an exuberantly platonic one. I immediately sent the video to Lavanya. I knew she'd love it, too.