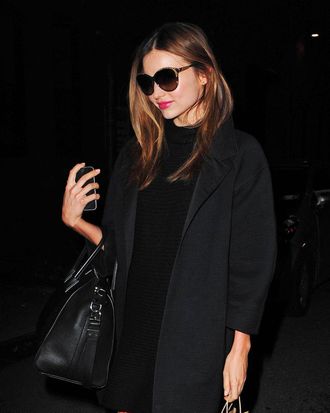 Photo: NCP/Star Max/Getty Images
Miranda Kerr, fan of a post-work relaxing manicure, isn't really into games. Or photography apps. Or period horoscopes. At least that's what we gather from the listing of her top ten favorite apps, as told to Vogue Australia.
The rest of us may be messing with Tinder, but Kerr doesn't need to —  she has Orlando, Flynn, and an arsenal of apps that tell her a lot about vegetables, cleaning, living, and working out. Like the ABC Veggie Guide, which notifies her whether alkaline soil can sustain sugar snap pea growth. And her Gratitude Journal app, which allows her to write daily affirmations like, "I am grateful for having a husband that can whisper Elvish to me in bed anytime I want, and an adorable roly-poly baby."
Advil for headaches? No. Kerr's favorite app, Heal Your Body ABC, even dispenses medication via self-affirmations. The app's suggested "thought pattern" for a headache is to repeat thoughtfully and calmly in a self-loving, yoga-monotone drone, "I love and approve myself. I see myself and what I do with the eyes of love. I am safe."
This must be the same affirmation she repeats to herself before every truly awful Victoria's Secret casting.