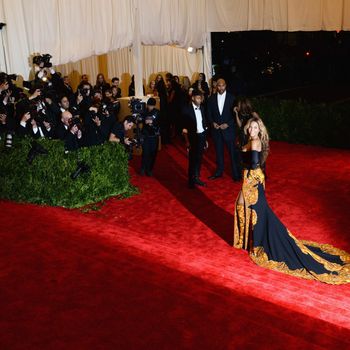 Met Gala.
Photo: Andrew H. Walker/Getty Images
Between Madonna, Beyoncé, and all the famous people fannying around on the red carpet at the Met Gala, it's easy to forget that it's actually a huge fund-raising event, full of wealthy folks who aren't so photogenic but are willing to fork over the dollar equivalent of a small car for a ticket. (Many models and celebrities are "guests" of attending designers and, therefore, don't have to pay their ways in.) Normally there are two prices of entry, $15,000 and $25,000; the former makes you look cheap, and the latter means you should probably donate even more, because clearly money is no object.
But starting next year, all tickets will start at the $25K mark, reports the Post. Because if you can afford to spend $15K on a single night, then what's another ten grand? The Met hasn't confirmed the price change, but according to the Post's source, it "will make the Met Gala even more high-fashion, even more exclusive and even more aspirational."
The ball will be co-hosted by Bradley Cooper, Sarah Jessica Parker, Oscar de la Renta, and of course Anna Wintour herself, in celebration of an exhibit on Charles James, a mid-century couturier who probably would've approved of taking extra measures to keep out the riffraff.