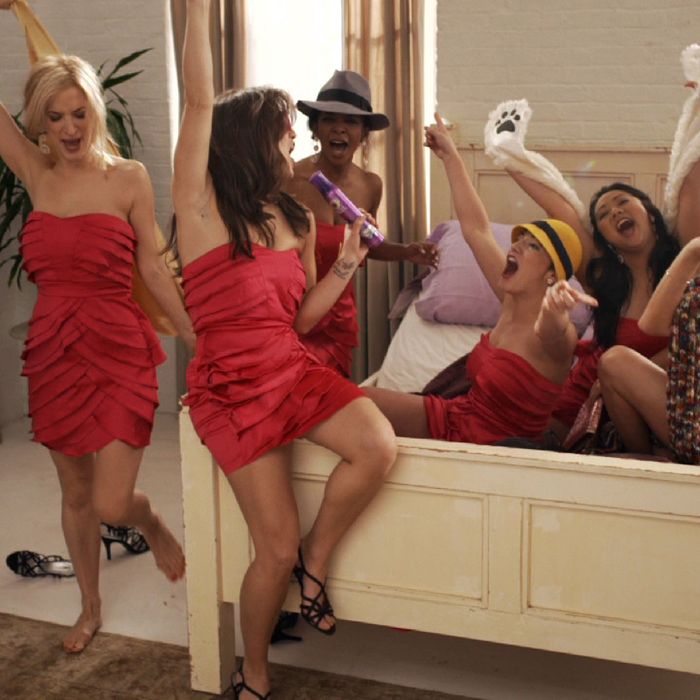 Over beers at the Delancy, Melanie Iglesias, one of the cast members of MTV's Girl Code, tells me that the comedy show operates kind of like a Taylor Swift song — albeit one with more dick jokes.
For the teenage audience (like the 15-year-olds who require chaperones at the cast's live shows), it's an exciting peek into the mysteries of womanhood. For actual adults (like me, out drinking with Iglesias and castmates Jessimae Peluso and Carly Aquilino), it's a relatable, almost nostalgic look back on familiar rites of passage. Either way: Everyone enjoys a good riff on drunk-dialing toxic exes and awkward gynecologist visits. It's a twisted universality that appeals to a wide array of viewers and has given the show much of its success.
Girl Code enters its second season on October 30. Spun off from the three-season-old Guy Code last year, it's become the no. 1 original cable series with women 12 to 34, with an average of 1.2 million total viewers per week in its first season. "I think the success of Bridesmaids and Tina Fey illustrated the need," explains executive producer Ryan Ling. But beyond riding the tide of prominent women in comedy, the show's popularity also has to do with its sticky millennial appeal — a spirit of big-sisterly sex ed that translates easily to hashtagged one-liners and Buzzfeed listicles of life advice.
The subject matter is more or less the same fodder that's been enticing teenagers to buy Cosmo or Glamour for time immemorial — guides to the various shapes of male genitalia; advice on how to deal with mean girls; accounts of pregnancy scares, breakups, and oral sex — but all wrapped up in a cheerfully filthy 30-minute parcel. Following the same talking-head format as its guy-geared predecessor, each episode covers three topics, interspersed with skits and one-line bits, like "#isthatweird?" (example: "Is it weird to get angry at your nipples?") and "#ICant."
What keeps the show tolerable, even after the 100th punch line about a vagina, is the cast's comedy chops. And in person, their easy chemistry is natural and impressive. Aquilino and Peluso share billing on a touring stand-up show; Iglesias, they say, attends shows as frequently as their parents do. All three hang out regularly, and spending time with them is like getting sucked into a live version of Girl Code.
Conversations play out like a game of basketball. At the Delancy, Aquilino warms up with a discussion of her love of Target shopping; her boyfriend, Chris Distefano, also a Girl Code regular, receives the pass, adding details about her shopping for hours, only to abandon the cart; and then — alley-oop! — Aquilino takes the ball back. "I'm like, fuck this. I need a cigarette," she chimes in, delivering the punch line. In about 40 minutes, the group manages to cover who should be which Spice Girl for Halloween (Aquilino is obviously Ginger),  lopsided breasts ("They're sisters, not twins"), space, having sex in space, farting in space, and then finally, they pull me into a conversation about Kegel exercises.
"You're doing it right now! I can tell. You made the face," Aquilino says, staring right at me.
"No shame. Drop down and get your Kegel on, girl," Peluso adds.
Most of the show's twelve-person cast, like Peluso and Aquilino, were plucked from New York or L.A.'s stand-up scenes; others, like Iglesias, came from outside the comedy world.
"A lot of us do write actual jokes", explained Peluso. "Some of the stuff I'll just do off the top of my head, but I do have some jokes that I get in there. Actual work goes into it." Each woman gets about three minutes per bit, and Peluso says it can take six to eight hours of nonstop improv to film the three-minute snippets of material that will be used in an episode.
They've all cultivated distinct personas. Aquilino, a New York native with crimson hair, has a dry wit, quick observational skills, and a brassy accent. Peluso is a blonde Lily Tomlin, a long-limbed goofball who launches into gross-out or physical comedy without vanity. Iglesias, a model with no comedy training but a keen sense of how ridiculous human behavior is, doubles as the resident hot girl. She's popular with young boys on Instagram, she says — or, "the 10-year-olds shooting blanks into a sock," as Peluso puts it.
It might seem surprising that parents would want to stick their 15-year-olds in front of a TV program that spends so much time on semen slang.
"I would rather my daughter learn about blow jobs by Nicole Byer" — another castmate — "than any other girl, than Miley Cyrus doing some stupid gyrating thing. I would rather her hear it in a funny fashion by some girl on this show than anything else out there," said Iglesias.
"We're girls you can relate to," explains Puluso. "We're normal people. We're stand-up comedians, we're performers. You know, we're not just a bunch of sluts on a show. I mean, not anymore. I got past that phase, there's an episode about it. And we're kind of trying to pass the torch to younger girls."
The women of Girl Code have cast themselves as cable-TV versions of the big sister or cool babysitter who traditionally begins indoctrination into a certain kind of womanhood. They're saying, "Young ladies, this is how adulthood looks, in all its profane, messy, boozy, twat-worshiping glory. It's fine. Get weird." And ultimately, this seems like what's appealing about Girl Code, and the show's great contrast with the women's-magazine version of womanhood: It suggests that maybe being a woman doesn't have to be so hard. You don't have buy the right clothes or know complicated sex moves.
"I feel like it's sad when girls have to worry about what they're going to say to a guy," reflects Aquilino. "A guy will do whatever it takes to get in here" — she gestures at her crotch. "It doesn't matter. If you are like, 'I have diarrhea,' a guy will be like, 'Oh, I think that's sexy.' And it's like, okay, we'll work with that."