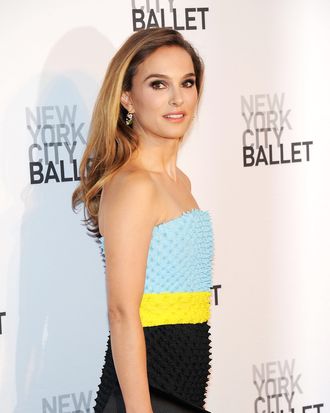 Photo: Jamie McCarthy/Getty Images
Which is more infuriating, the rich movie star who tries to convince the magazine journalist she suffers, or the rich movie star who admits she has no problems? I thought it was the former, but now that I've read Marie Claire's November profile of Natalie Portman, I kind of wish she'd fudged some misery.
Here's what's new in Natalie's world: She's moving to Paris, where her husband just got a big job. She still gets all the Jewish girl roles ("I look more Jewish than Scarlett," she says), and her biggest vices remain biting her cuticles and watching too much Food Network. She doesn't feel the need to respond to a controversial report about her role in the Clinton Foundation, because she "tries to remain willfully oblivious to what the world is saying about her." She doesn't get stressed about paparazzi, because "if you don't see them, then they're not interfering with the way you feel." "This isn't a problem," she tells reporter Ned Zeman, more than once. "I'm very happy." Oh, and she has the best playgroup for 2-year-old son Aleph.
"I have the most amazing woman near here, if you guys want to go to her," she told Zeman, who is also her neighbor. "She runs baby groups. In ours, there's a mom who just adopted a little girl, and it was really cool because a lot of us gave extra breast milk."