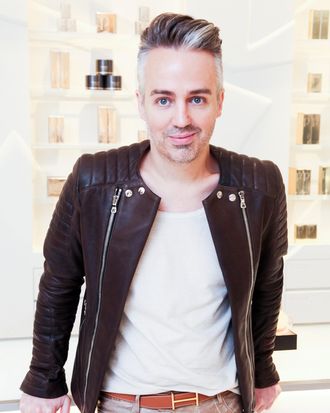 Photo: Paul Porter /BFAnyc.com
Just a few display counters down from his former mentor Kevyn Aucoin's line, Troy Surratt, a celebrity makeup artist who has touched the faces of Adele and Charlize Theron, is exhausted from a succession of personal appearances. Just five days ago, his new makeup line officially launched at Barneys New York's redesigned beauty-floor-cum-playground — the culmination of four years of hard work and endless frequent-flyer miles. The Japanese-inspired, modern makeup line has already sold out of several pieces (like the looks-good-on-everyone red Automatique Lip Crayon in Alluring) and everybody wants to talk about it.
The Cut spoke to Surratt, who walked us through being wrapped in a hazmat suit to enter Japanese makeup-production factories, his high-humidity-defying mascara, and the key quality difference between American and Japanese makeup that he carried into his own line.
Why is the line Japanese-inspired?
When I was assisting Kevyn Aucoin, he had done Inoui, a collection of makeup with Shiseido that was only available in Tokyo. As a young assistant, I dreamed of getting to Tokyo and getting my hands on that collection. I felt that if I could get my hands on that makeup, I could do makeup as beautifully as he did.
Shortly after his death, I made my first trip to Tokyo. I was so inspired and taken with it. I started going annually to purchase beauty products. I would bring things back from Japan and use them on clients who would notice the difference in quality, texture, color, and longevity. I noticed using it that it was more beautiful and effective in many ways. I started peeling away the layers of the onion to try to figure out who made my favorite things in all the categories. Four years later, I was able to create my "Made in Japan" story and bring all of the beauty of the Japanese formulations and innovation to my line in America.
What makes Japanese beauty products better?
The Japanese are so innovative and have a willingness to pursue new ideas. They're very interested in figuring out how to make beauty better. The factories I visited in Japan are so clean, they're practically hermetic. I joke that you have to be Silkwooded to go in. When you go into a factory, you enter a chamber where they spray all of the lint and hair off you. You put on a white hazmat suit. They make sure you are incredibly clean. Being a little OCD myself, I liked that aspect.
I kept a lot of the Japanese formulations for my line. For example, Japanese powder textures are softer and more blendable than many American powders. Traditionally in America, powder products are pressed into aluminum pans using force. All of mine are created using a slurry technology. It starts out looking like a cake batter, which is poured, and gently pressed into the pans. Moisture evaporates out, leaving behind a gorgeous, velvety texture that is more optimal for blending.
And I know the Japanese love their mascara and eyeliners. What inspiration did you take from their versions?
Yes! The first time I went to Tokyo, I went to this Harajuku shop where they had a whole row of eyelash curlers: electric, heated, and traditional cage curlers. I welled up with tears because I was in heaven. I wanted to create a superior lash curler that is more ergonomic. It has two loops, so it requires less pressure to get the same amount of lift and bend.
I sought out the craftsperson whose grandfather was responsible for creating the Shu Uemura eyelash curler. It is made in the same workroom outside of Tokyo that the most famous eyelash curler in the world is made in. It's hand-calibrated.
The curve is a little less curved than other ones. I like to use the curler to work the eye in two stages from the outer to inner corner, to cross it in the middle. My curler bend is a little … it's a little less horseshoe-shaped and fits the contour of the eye more comfortably.
How is your mascara Japanese-inspired?
Japan is so incredibly humid, the mascaras and eyeliners are really designed to perform in high humidity. It makes them indelible. My Pointilliste mascara is deigned to be lengthening and defining. All the adjectives I use to describe it are ballerina-like: It lifts, bends, and gracefully fans the lashes across the entire lash line. It has beautiful microfibers for extension.
The formula is also different — it has 360-degree coating and comes off in tubes in hot water. I also did a lower-lash mascara called the Revelee. It has a tiny little brush for lower lashes. I wanted to create dark lower lashes that aren't spiky or bulky. I wanted to create one that was just like a darkening tint without making them spidery.
Another pièce de résistance is the liquid-liner pen. I am not a huge fan of magic markers as liquid liners. I created this pen with a capillary system, inspired by a Japanese calligraphy. It's a nylon brush with a fine tip. It's refillable. Purchase the pen once, and you can replace the liquid-liner cartridge.
I noticed the texture of your eyebrows pencils is a little different; it seems a little more like a drawing pencil.
Yes, they're harder and more powdery. I think brow pencils here are too soft so it looks obvious that you drew your brow on. I read that Audrey Hepburn used a graphite pencil and this brow pencil channels the feathery nature of using a graphite pencil. It allows you to create shadow between the hairs that makes them look denser and fuller, so the brows wouldn't look HD and drawn-on.
Apart from the Japanese-inspired points, what other things about your line did you want to do differently?
I wanted to create a system that was easily customizable. Traditionally, cosmetic palettes have been created by marketing teams and they're usually just four monochromatic shades. I think luxury is being able to customize, so I wanted there to be a customizable element. We created that with small and large palettes that allow the consumer to create a customized look. We've all had those palettes where we use one color and hit pan. Our system allows you to pop the color you use most out, and replace it. That's the biggest part of the collection.
I tried to create a line with no rules. There are so many " alwayses" and "nevers" in beauty, so I think if it works for you, do it. Modern people and modern beauty vacillate. Modern is about being able to step into different lifestyles and situations with ease and comfort. I think it's been a long time since there was newness in the beauty category. Beauty and products are what I love so much and I imbued the line with my love and passion.
The full Surratt Beauty collection  is still making its way online, but check out some pieces now available for purchase in the slideshow.