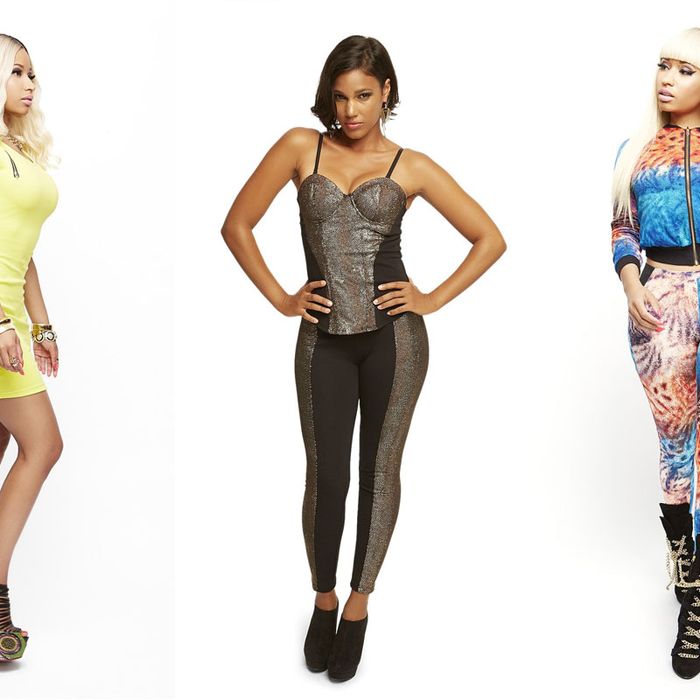 Nicki Minaj's Kmart line.
Photo: Kmart
Over the weekend, Cut editors were assigned a social experiment: Wear at least one article of clothing from Nicki Minaj's latest Kmart collection, and see how it fared in our decidedly normal, non-diva lives. What would happen when we wore these loud, tight, flesh-baring items in front of strangers, friends, significant others, yoga classmates, and in one case, a dentist? Would they make us feel fierce and fabulous, or just self-conscious?
The overall conclusion is that all clothes look far more demure on real people than they do on Minaj, who models the line on Kmart's website. They were also quite flattering, and even comfortable. The fabrics were stretchy and forgiving, the pants were butt-boosting, and the silhouettes were generally kind. Read on for our respective stories (and photo evidence, for good measure).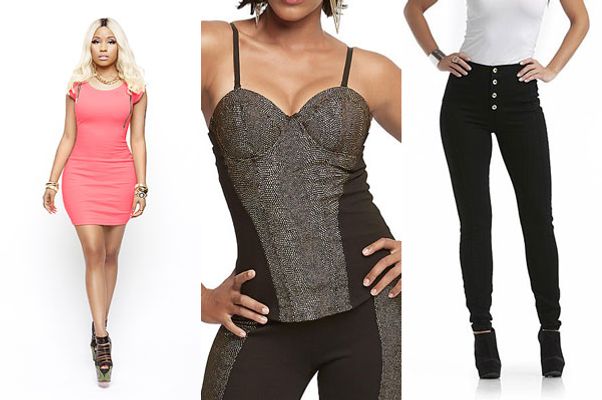 Charlotte Cowles 
As the ringleader of this exercise, it was only fair that I go all-out. I brought home what I thought were two equally absurd outfits, only to realize that one — an extremely short, tight, hot pink dress with nonsensical zippers in the shoulder and boob area — was completely unwearable. "I'm not going to say that you can't wear that," said my boyfriend, looking horrified. "But I would feel very uncomfortable about it."
I should note that the one time I ever saw Nicki Minaj in the flesh was backstage at a fashion show, and what I remember best is her cleavage, which was speckled with body glitter and floated under her chin like a cleft buoy. When I tried on my second outfit — a padded bustier flecked with raised gold paint with button-front, high-waisted jeggings — it was like I'd been touched with Nicki's magic boob-wand. Meanwhile, the pants were surprisingly flattering and comfortable.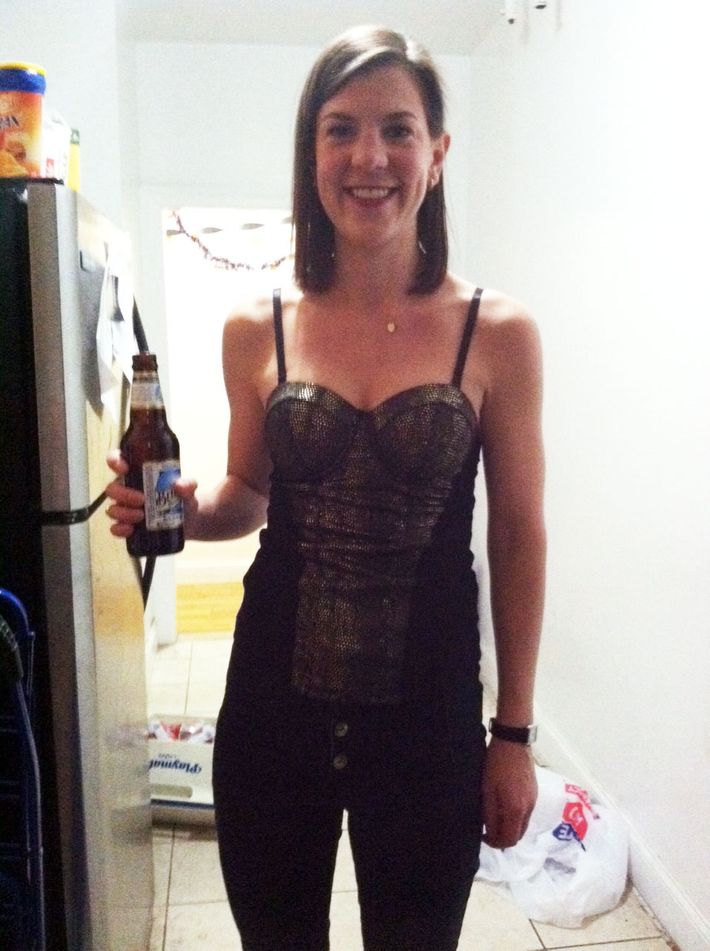 I wore outfit number two to a Halloween party on Saturday night, figuring it would be a safe space for my new boobs. But between the slutty bumblebee and pregnant clown costumes, I didn't really stand out. "You used to wear stuff like that all the time in college," said a friend, shrugging. I felt retroactively embarrassed.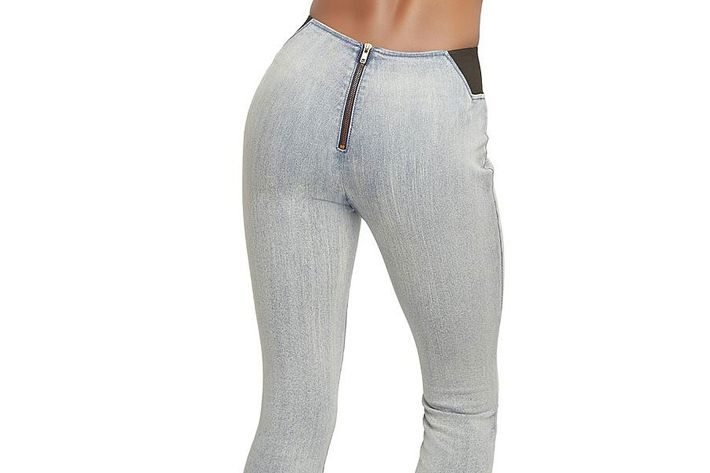 Maggie Lange
I took a pair of Nicki Minaj powder-blue stretch jeans out for drinks with friends. What these jeggings lacked in any sort of pocket, they made up for in black, stretchy, trapezoid-shaped panels on the side. They also did all the things that a flattering pant promises, aside from providing any sort of modest roominess — but that was not expected. Comfort-wise, they were totally middle ground, which was also not expected.
The moment I most connected to Nicki Minaj was after removing these pants, when I noticed that I'd worn them backwards, with the zipper in the front (like normal jeans, which is where I should have known I was doing it wrong). Then I realized that Nicki would also have worn these pants whichever way she pleased! Success. And how fantastic that she inadvertently made reversible pants.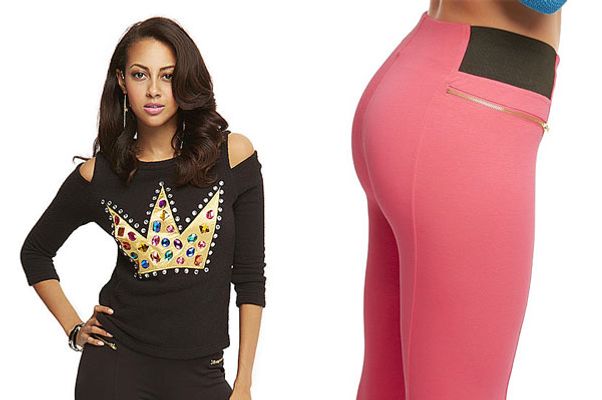 Kat Stoeffel
I more or less poured myself into a pair of child-sized, hot-pink leggings with black, heavy-duty stretch panels at the hips and non-functional zippers. Like Nicki's own body, it was either a miracle or a feat of science. I paired the pants with a textured black sweater with a bejeweled crown on it and cut-out shoulders. It was surprisingly soft on the inside and roomy enough to cover the bulge where the leggings dug into my waist.
I wore it for an hour by myself in my bedroom Friday night, and then again out and about for errands and brunch on Sunday. One friend told me I looked like "a hot mom giving out candy on Halloween."
While wearing the Nicki Minaj clothes, I vacillated between the totally foreign-to-me feeling of fashion invincibility — Here I come, jodhpurs!—and paranoia. Why was no one staging an intervention? But it was intermittently thrilling (and dare I say empowering?) to wear a garment that is not only hopelessly unflattering, but the color of a literal highlighter. I might never have experienced it if not for her.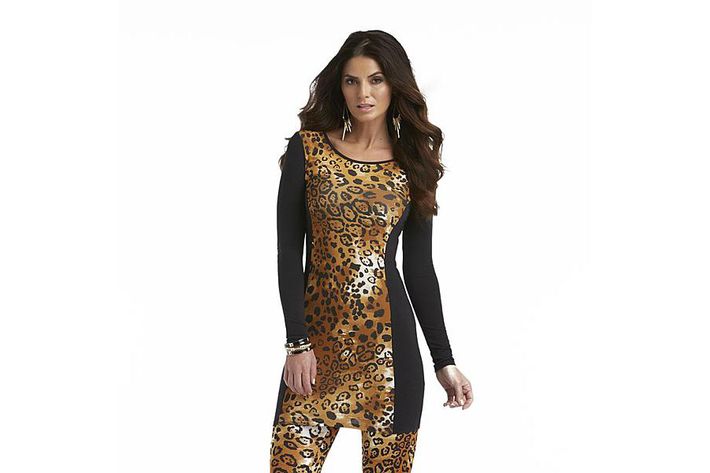 Julie Ma
I had a skin-tight black dress (which Kmart deemed a "tunic") with an impressive cheetah-print panel down the center. Considering it was a size XS, which I am not, I was surprised at how well the fabric stretched. I'm not sure if this "tunic" was supposed to fit like a body-con dress — but if that's what people (or Nicki) are going for, size down. After a few minutes, I felt like a sausage encased in spots. Maybe it would've worked better with pink hair.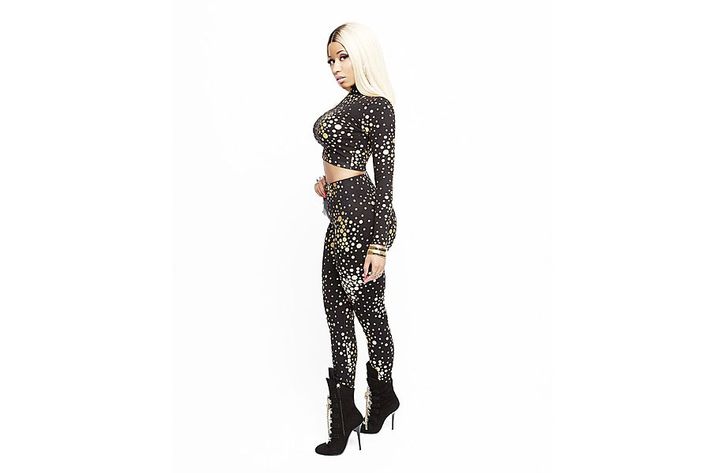 Veronica Gledhill
In the pile of clothing on Charlotte's desk, I chanced on a black crop-turtleneck covered in gold polka dots of varying sizes. It seemed like just the right amount of absurd — an homage to Yayoi Kusama, but blingier. I accepted its challenge.
You can't tone down something as crazy as this, so I decided to play it up to the hilt. On Saturday, I wore it with a wacko fur coat (sort of like what Helena Bonham Carter wears as Marla in Fight Club), boy jeans, and a beanie hat, and walked from my apartment in University Place to the East Village doing errands. Later, I went to yoga, which I wouldn't recommend doing in a cropped turtle neck. I was very sweaty, and felt as though the wrong parts of my body were exposed/covered up. I would probably never ever wear this top again.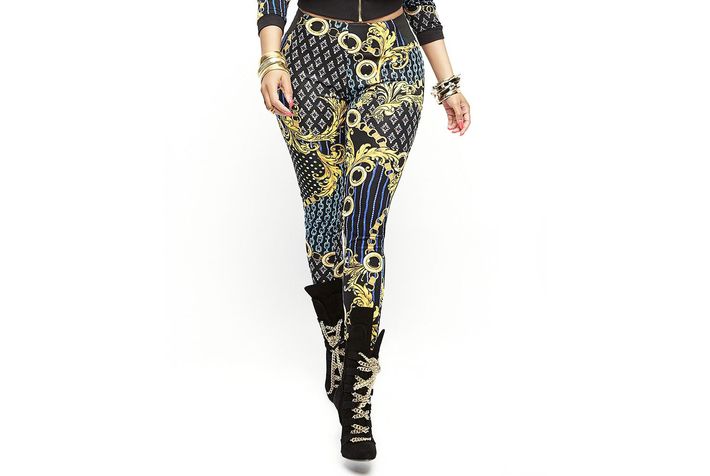 Stella Bugbee
I tried on the black, yellow, and white polyester leggings with a combo baroque-and-leopard print. My husband thought they looked "totally normal for me." I had him take a shot of me from behind, to see if it made my ass look as juicy as Nicki's. They did a noble job, I have to say. He was more into them after that.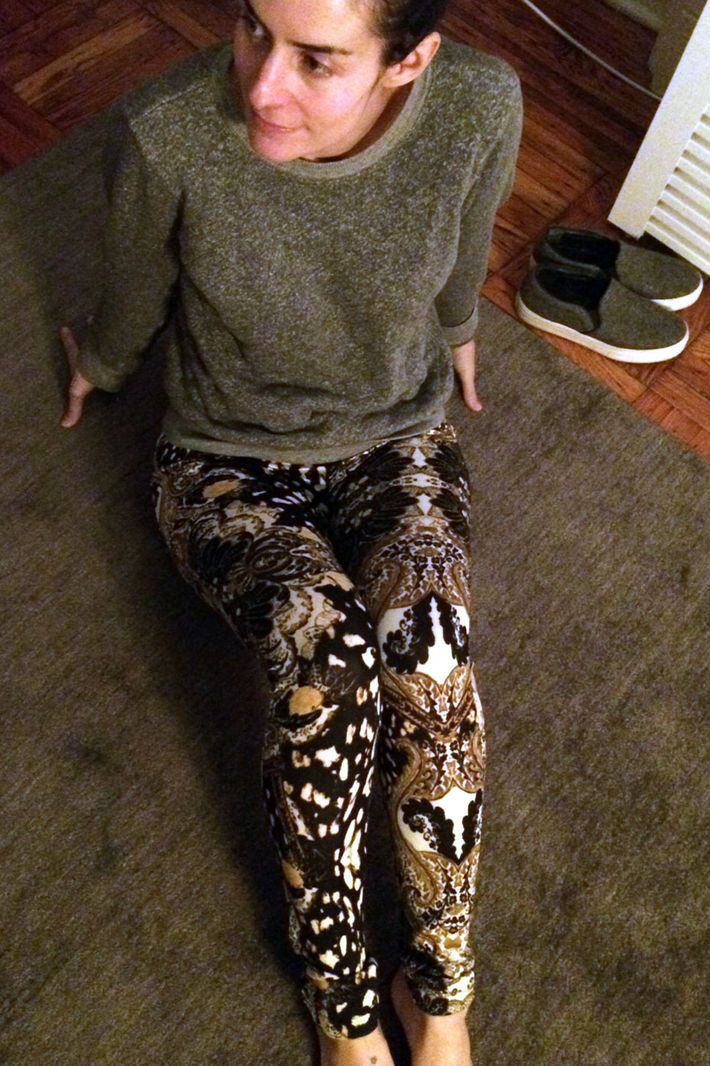 They were a little much for my weekend of taking my kids to soccer games and carving pumpkins, so I only wore them "out of the house" in the sense of posting a photo on Instagram. My oldest friend texted me later that evening to say she "had to have those leggings." So, overall, a huge success! Especially for $22.95.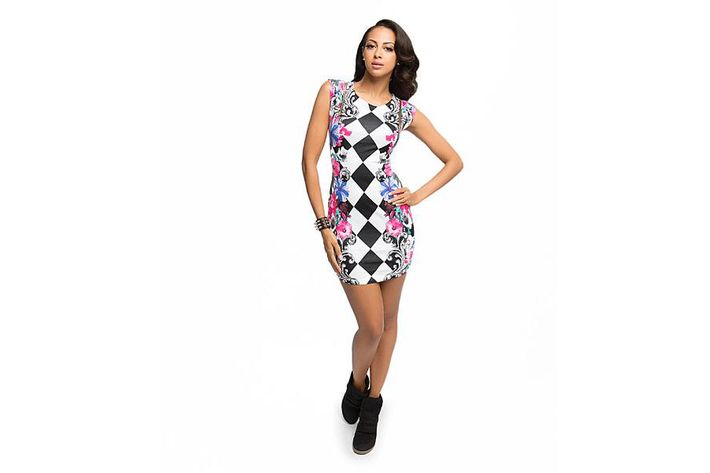 Kathleen Hou
Charlotte charitably gave me the least outlandish option of the Nicki Minaj for Kmart collection: a sleeveless minidress with vertical zippers on both shoulders that unzipped to my ribcage. With its hot-pink crazy-diamond print, it looked like something a slutty Harley Quinn would love.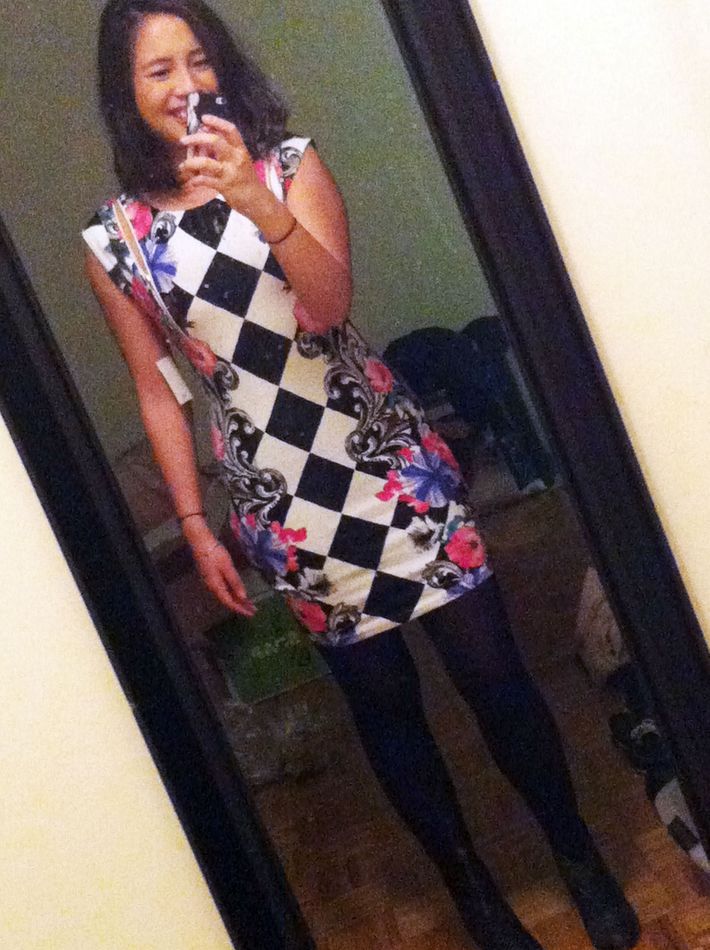 I decided to wear this dress with a "What Would Nicki Do" attitude. She probably wears this stuff every day, so I wore it to get my teeth cleaned at Lavaan. I accessorized with wedge Nike Dunks and a hot-pink cardigan. The minute I left my door (literally), I was showered with attention. First, my neighbor who I've never spoken to before in my life (New York, you know), offered me free sneakers. Then my doorman stopped me. "Have I ever told you I really dig your style?" he asked. 
And then both my dental hygienist and my dentist complimented my outfit. I got a free grande at Starbucks instead of a tall. My friends, who were aware of the experiment, started calling it the "magic dress," and asked to borrow it. I would've worn it all day if it didn't cut off my circulation. When I ate a mini-size Twix, I felt like it showed in the silhouette, like a snake swallowing a mouse. And so there my WWND experiment ended.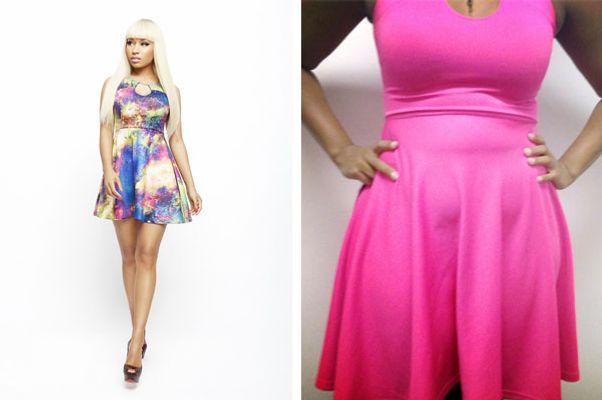 Allison Davis
Nicki Minaj, you never fail to surprise me, and this frock from your Kmart line was no exception. I was given a hot-pink, knee-length number with a saucy keyhole cut-out at the neck and a big cut-out at the back. Nicki, you know the way to a girl's heart with those well-placed cutouts.  The fabric was way better quality than I expected. Dare I call it a weighty jersey that didn't cling? I do.
The top was snug (maybe too snug), but it pushed the girls up so they could peep out of the keyhole, and the back cut-out was a nice flirty reveal of my shoulders. I expected to put on this dress and feel like I was ready for the clurb, but found that it was totally appropriate to wear to a dinner and documentary screening with a friend, even though the uber-girly colors undermined my "artsy pretentious vibe."
All around, this was a flattering dress and not at all the club-ready, get-some dress I was expecting (or hoping for). Minaj, you are a complex parfait of a woman.