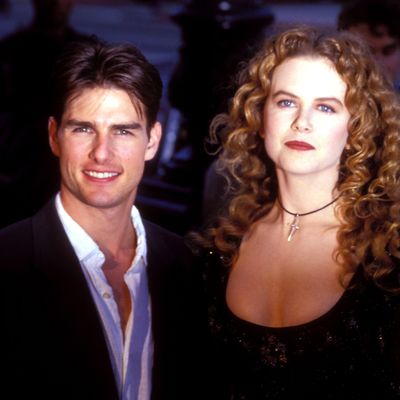 Photo: Barry King/Wireimage.com
Nicole Kidman would like to tell you a thing or two about the special type of romance that comes when each party is outrageously famous and universally beloved.
For her Vanity Fair cover story, Kidman recalled her marriage to Tom Cruise. She reports that it's just an extreme, sublime, swirling, unfathomable type of love, most likely only experienced by people like Liz and Dick, and Brad and Angelina:
There is something about that sort of existence that, if you really focus on each other and you're in that bubble, it's very intoxicating, because it's just the two of you. And there is only one other person that's going through it. So it brings you very close, and it's deeply romantic. I'm sure Brad and Angelina have that—because there's nobody else that understands it except that person who's sleeping right next to you.
But all is not always dreamy in dreamland, Kidman reports. She divorced Cruise around the time she was portraying Virginia Woolf in The Hours and notes that the suicide scenes revived her. Kidman then escaped Hollywood to live in Nashville with her husband Keith Urban and their two daughters.
There's an enormous amount you have to give up if you want to have a family. You can have a certain career, but you can't be living in Hollywood, [where] absolutely everything, everything revolves around it. That wasn't my choice. I'd rather revolve around somebody else's career and then still find my own.
Kidman reports they're "very, very healing," "very, very peaceful," "very, very tight," "very, very close," all with a dose of her "very, very primal protection of her family." How splendid. Well, we are very, very happy for you.