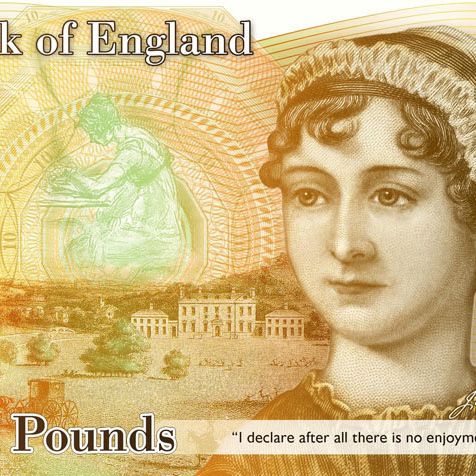 Jane Austen has been Photoshopped within an inch of her long-expired life on the U.K.'s new £10 note, says Paula Byrne, one of Austen's biographers. Byrne told the Guardian that the portrait used for the bill was commissioned more than 50 years after Austen's death and has been renounced by her remaining family. But she mostly thinks the rendering doesn't do justice to who Austen was as a person.
"Jane Austen is the funniest writer to walk this planet, and she's been made to look dim-witted."

"I can't believe they have gone for such a saccharine picture. Jane Austen was a supreme social satirist, and some of her writing was quite dark, but they've chosen a picture that makes her look a really cosy, middle-class writer.

"They've made her look like a doll, with big eyes. She wasn't smiling in the original and she is in this. It is a Victorian airbrushing of her."
I'll leave it to another blogger to parse Byrne's linking of prettiness and stupidity, except to note that the seemingly inoffensive decision to put Austen on the bill has been met with disproportionate (but alas, not surprising) quasi-feminist controversy. Over the summer, the woman who campaigned to get a non-royal woman (any woman, not necessarily Austen) on one of the new British bank notes was subjected to rape and death threats from Twitter trolls, as were the female politicians who supported her. Others have protested that whoever designed the bank note must not have actually read Austen, because the quotation — "I declare after all there is no enjoyment like reading!" — is taken totally out of context. It's safe to say we have a new contender for most devoted fan base on our hands.