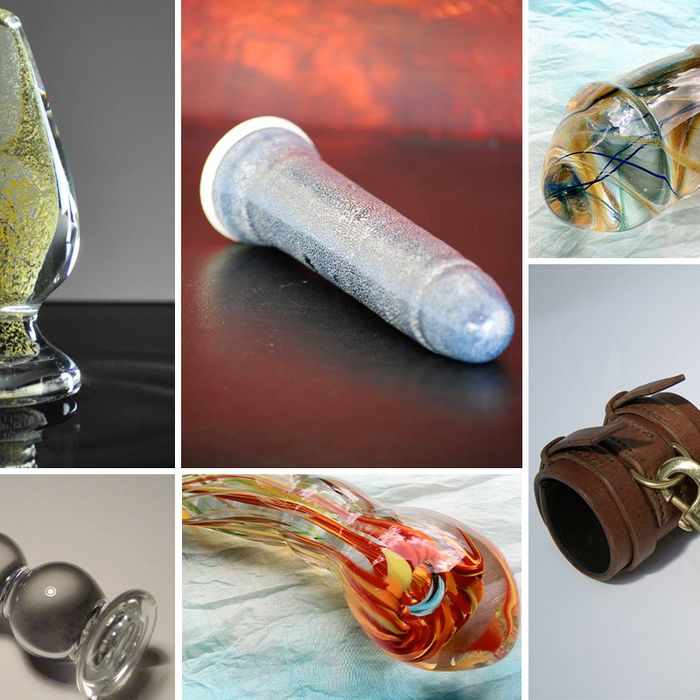 There are now over one million Etsy shops, from all over the world, promoting a wide variety of aesthetics. And while it's hard to say there's a single Etsy "look," there is a certain Etsy mood among the estimated 18 million items offered: It feels like an asexually feminine space. Like Pinterest. Or Zooey Deschanel's house.
But click off its tastefully curated front page, and Etsy is not so innocent. The marketplace is teeming with sex toys: silicone G-spot massagers, leather handcuffs, and handmade glass, wood, and ceramic dildos by the dozens. Clicking on tags like "adult toy" (3,603 and counting) or "dildo" (1,263 and counting) take you into a thriving alterna-Etsy that's kinky, grown-up, and would make plenty of its mainstream sellers blush. 
Like most other things on Etsy, these goods are also handmade. The idea of an artisanal sex toy might sound off-putting at first: Do you really want to know the name of the person who designed your Darth Vader dildo? On the other hand, what could be more "artisanal" than sex itself? Profoundly individual, made to order, each experience slightly different.
Happy, a 20-year-old ceramicist who has been making dildos since he was 17, sells his wares under the Etsy shop name Pleasure Stone. He works out of a studio near his home in Oklahoma City, turning out clay dildos in a variety of sizes, shapes, and glazes. A typical item description reads: "This toy has midnight blue spots with speckles of light pink. It features a realistic head and a fully vertical shaft." He can make about 30 dildos at a time in his kiln; the process takes about three weeks from start to finish. His girlfriend and business partner, Lauren, has the sales pitch down pat: "Most of the major sex toys you see are made of synthetic materials," she says. "Some can be kind of cheesy, and we wanted to provide something that had our earthy brand to it — handmade and not mass produced."
That pride in shunning mass production is something most Etsy sellers share, and the "adult" shop owners are no different; authenticity is paramount. Benjamin James Mathes, who lives in Northern Virginia and sells trippy, colorful hand-blown glass dildos under the shop name BendableGlass, says he's particularly proud of a two-sided glass butt plug with an eyeball on its end. It's called "Hindsight." When he describes it over the phone, with the product's name as punchline, it's hard not to laugh along with him: "It's to show my funny side," he says, before adding soberly: "But that's not really the purpose. It's about: This is what I'm capable of."
Glen Hovers, who is based in Brighton, England, sees his leather fetish gear as an extension of the back-to-the-land lifestyle. "It's counter to the mass-production culture, which I don't have any time for," Hovers says. His handcuffs, dildo harnesses, and the like, sell for up to $725 at his Etsy shop, Wild Harvest. He started working in leather by tanning deerskin at a "primitive-skills camp" in Sweden, and maintains an interest in "permaculture," the protect-our-Earth philosophy that has spread on Reddit and other corners of the Internet.
As craftsmen above all else, many sellers are careful to note that they came to this nascent industry through traditional training, not through a primary interest in sex toys. Michael Loo, who sells (mostly) clear-glass dildos under the shop name Indulgence Glass, recently graduated with a "degree in glass" from California College of the Arts, and says his business evolved from a passion for the medium. A few years back, Loo (which is a pseudonym) spent two years living in a van outside a shop run by an "old hippie," in order to study glassblowing from him.
Like many sellers, Loo emphasizes that making toys is not easy work. For a glassblower, who must keep the object in constant movement while he works, requests for serious girth can be a particular challenge. "There have been times where I've been practically collapsing at my desk after two hours of holding it," Loo says. "And I keep getting requests for bigger and bigger and bigger. I got a request for three-and-a-half inches the other day." (Since glass sex toys are not always hollow, many are not technically "blown," but the art of working with glass is called glassblowing no matter the technique.)
Loo's toys would look at home in any city's high-end sex shop. And if sellers like Happy and Lauren take pride in an "earthy brand," others are aiming for something more polished. Alexander Smiley, an entrepreneur from Chicago, took pains to set himself apart from sellers on Etsy during our conversation; unlike most artisans selling as individuals, Smiley is the founder and CEO of a brand-new company, Oro Vidri. "Etsy has a lot of people selling glass dildos, but I'm making pleasure objects," he says. "I'm making sculptures people can make love to."
Smiley sees his designs, which incorporate pure silver and 22k gold, as more elevated than his competitors' wares. "What's the difference bet an 8-inch object with a specific function and a 42-inch object by Brâncuși?" he asks before explaining that he likes to imagine his pieces on a mantel or in a museum, not just a bedside drawer. He's working with a contemporary art gallery in Chicago to put on a show within the next year on "the sex toy as a canvas for art, and its place in functional art in time and history."
Indeed — like pickle purveyors or at-home mayonnaise makers — reaching for seriousness is a recurring theme. It's not that surprising, since although the adult industry has been moving toward the mainstream for years, it will probably always carry a strong whiff of the demimonde. Meanwhile, Etsy is a space that welcomes both experts and dabblers, so trained artisans feel the need to defend their expertise.
Whether novice or expert, everyone seems proud of their work. Toy sellers use their real names — sometimes first names only, but still — and many post their photographs on their profile pages. None of these sellers reported major problems with friends or family objecting.
Shame isn't the real enemy. Instead, China is the imagined threat that sellers mention over and over. "They can outproduce you left and right," Smiley explains. "No matter what I make, it's always compared to something someone can get for 49 cents from China." Mathes says he strives to make each piece individual, rather than work from an easily copied template: "As soon as I make it to that point, it's going to go over to China."  But for now, like sex itself, the pleasure comes from keeping it personal.