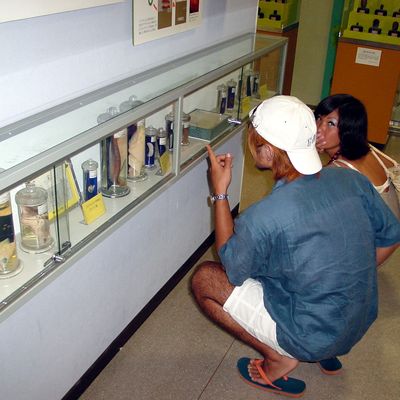 Photo: Barry Cronin/Getty Images
There is a national crisis in Japan because young people aren't having sex. A nationwide "celibacy syndrome" has led to continually shrinking birthrates. Dramatically fewer young people are interested in marriage. They call dating, sex, and marriage mendokusai, which means too bothersome and annoying. An investigative piece for the Guardian by Abigail Haworth bears the headline: "Why have young people in Japan stopped having sex?"
Well, maybe because their idea of a romantic date involves a trip to the Meguro Parasitological Museum in Tokyo, which calls itself "the only establishment in the world entirely devoted to parasites." It's apparently a very popular destination for couples.
What's on display at this museum? Just the world's biggest turnoffs ever, in succession:
Photographs show the severely enlarged scrotum of the unfortunate human host of a tropical bug. Nearby, a giant herpetological parasite pokes out of a bottled turtle's head. The museum has over 45,000 immersed and prepared parasite specimens in its collection.

The prize attraction is undoubtedly the world's longest tapeworm — all 29 feet of it — accompanied by a rope the same length that you can "play with" to get a real "feel" for its dimensions. 
In the Guardian piece, a relationship and sex therapist named Ai Aoyama said, "Both men and women say to me they don't see the point of love. They don't believe it can lead anywhere." Especially when you know that your life will end in an engorged, parasitic destruction.