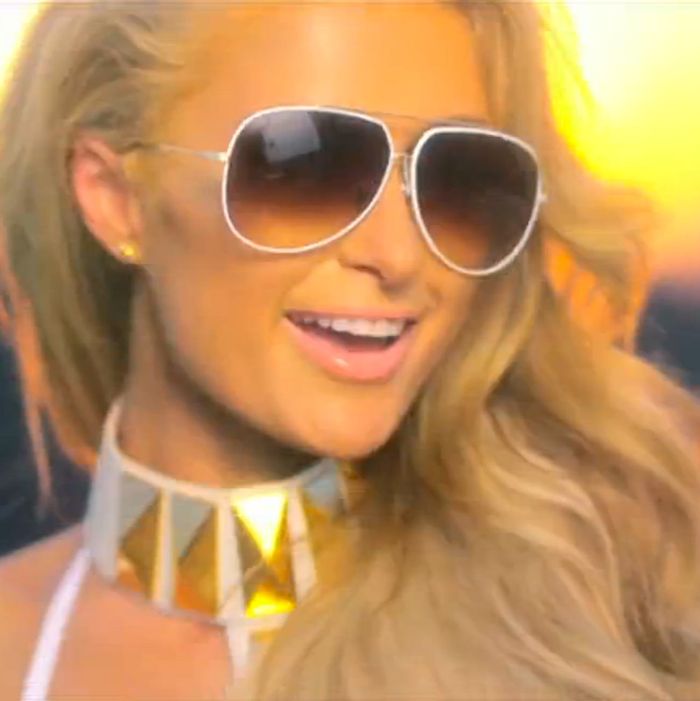 Paris Hilton just released a music video for her new song featuring Lil Wayne. It's called "Good Time," and I believe it was filmed in 2003. Back then, perhaps, the sole bedazzled USB containing the video file was lost in the glittery shoe-palooza of Paris Hilton's closet. Maybe Hilton discovered it a few months ago in a chinchilla-fur boot. So she said, You know what? Forty seconds into the song, let's just add some of that hip new EDM sound and put it up. The youths will never know. 
So here it is, delivered straight from the early aughts, when the shirts read Rich Girl in rhinestones and the trucker hats all bore acronyms. The color scheme is barfed by Lisa Frank. Glow sticks are the rage. Matching your hoop earrings to your sunglasses to your top is the thing to do. Lil Wayne is on call for some name-checking, bitch.
Here the swimsuits are spangly and strictly for poolside writhing, not swimming. Paris's hair is the color of a mimosa left sitting in the sun; her eyes are the manufactured blue of Walter White's product. And you know what? I'm happy for her. If only we all knew our native element so precisely. Frankly, I am a little jealous.
Even though it's 2003, her message is eternal: Dis the haters, disparage the paparazzi, and arrive to each location announcing that you're just here to party. Because "Good times are here, and you know they're here to stay. If you're not here to party, move and get out of the way."